While we had already seen the cricket score cards support for the popular Google Now service, with the ICC T20 World Cup ready to take off, Google has now updated the Google Search app with cricket support.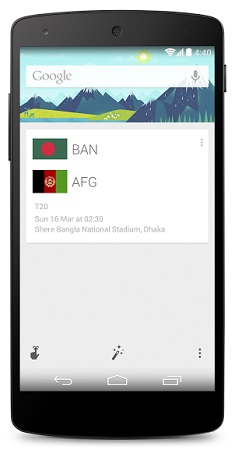 The Google Search for Android version 3.3.11 has been released on to the Google Play store. The update adds more support for cricket and allows you to avail live updates of your favourite teams, just by adding them in the Sports Team list. All the upcoming fixtures of your selected teams are displayed for reminding you.
With the updated version of Google Search, you can do a voice search for the current match scores to know the ongoing play. Further, at the end of the match the detailed live results would be available. Other than that, the new version has support for traffic incident reports on the route you are travelling, subject to availability of such reports. You can also set reminders for chains. You can download the latest version of Google Search from the Google Play store.