Google slashes Premium Apps prices to celebrate 10 billion Android App downloads
Yes, we are not kidding. Apparently Google is giving away Premium Android apps for just Rs. 5.12 on the Android Market. The dirt cheap prices are a part of a promotion to celebrate 10 billion downloads from the Android Market. For this, Google will be offering ten apps everyday for the next ten days at just $0.10 which is Rs. 5.12 in India.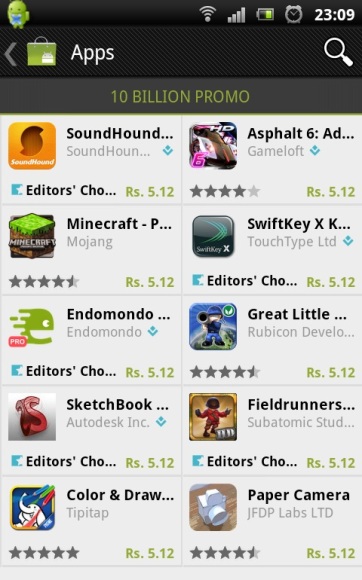 The first day sees apps including SwiftKey X, SoundHound, SketchBook Mobile, Asphalt 6, Minecraft, Endomondo Sport, Great Little War Game, Fieldrunners HD, Color & Draw for kids and Paper Camera.

The promotion seems to be a very bold move by Google but will surely attract loads of customers to buy the apps at these low prices. Hit here to check out the apps available at the low rates for today.