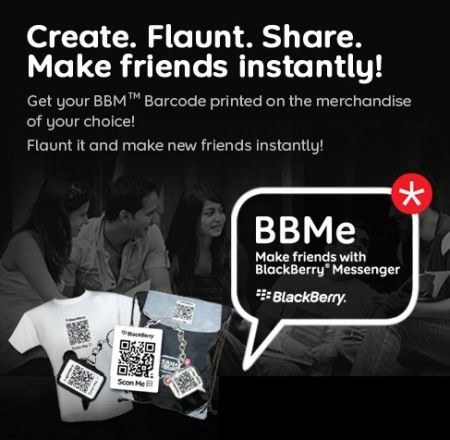 BlackBerry has launched 'Flaunt your BBM' application which is live on Facebook and allows you to share your BBM pin in a unique way. This program also enables you to share your QR code with all your friends by displaying the QR code on cool merchandise. This program makes it simpler for users to share their QR Code online and offline.
This service is a first-of-its-kind program where BlackBerry user's personal BBM QR Code will be printed on the merchandise like T-shirts, Bracelets, Sling Bags, Key Chains and Stickers. Simply visit the Blackberry India Fan page on Facebook and share your details like Name, Mobile, Email, Address, BBM PIN through the specially developed Facebook application, which will convert the BBM PIN into a QR Code. You can now print this code on a selected merchandise before shipping it to the user.
 
For more visit here.