With the success of the Groupon App on the iOS platform, the daily deals app has now been pushed to Android phones to address the larger user base in India.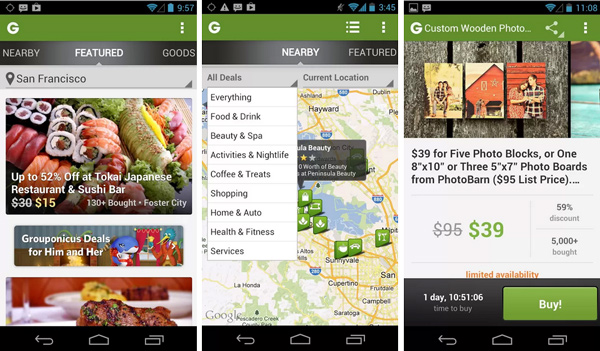 Groupon India has now launched the Groupon app for the Android platform. The app would give users to browse through hundreds of deals from an array of selections ranging from local, travel to shopping and offer suggestions on best things to do, see, eat, and buy. The Android smartphone can also be used as a 'Groupon wallet'.
The Groupon app for Android can be used to buy and redeem deals directly from your phone and also keep track of all the purchased Groupons by location and expiration date. Not having to print a Groupon helps save ink and paper. The Groupon Getaways can be used to plan a relaxing retreat or a last minute break. The Groupons can also be shared on social media. The app is currently available on the Google Play Store.
Speaking about the launch of the Android App, Ankur Warikoo, CEO, Groupon India said, "The desire of the Indian youth today to stay connected and have instant access to internet is driving a dramatic growth for the smartphones market in India. After successfully launching the Groupon App for iOS users, we wanted to broaden our base by reaching out to a large number of Android users with this initiative. Our objective is to offer our customers the convenience of accessing our deals across various categories on the go and further creating an unparalleled experience in the deals segment across the country."