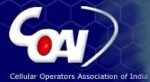 Mobile phones users in India prefer a GSM connection over a CDMA one. The Cellular Operators Association of India (COAI) claims the news after a study. The main disadvantage people have with CDMA is that there is no SIM, so users have to stay with only cell phone. However, in GSM, there is a SIM and users can use any phone they want.
"In the recent data released by telecom regulator TRAI, it is evident that the GSM players are the preferred option selected by the cellular subscribers to CDMA," GSM industry association COAI said in a statement.
The COAI also added that Mobile Number Portability (MNP) won't be affecting the industry in a major way. As few as 5 million subscribers have opted for MNP, which is less than 1% of the total mobile subscribers.
COAI Director General Rajan S Mathews stated, "It is a worldwide trend that consumers of mobile services prefer GSM to CDMA. GSM networks are hailed for their better network quality, wide selection of valued added services and a variety of handsets and open networking systems." 
Telecom Regulatory Authority of India (TRAI) have reported that about 38.33 lakh subscribers have submitted their requests to different service providers for shifting their mobile number at the end of February 2011.