If you are from India, chances are you watched yesterday's India vs. Pakistan ICC Champions Trophy 2017 final match, and of course, got disappointed and surprised with Indian team's performance resulting in a loss by 180 runs. However, the one good thing that happened during the match was that we got our first official look at the OnePlus 5 in its entirety before the June 20 launch.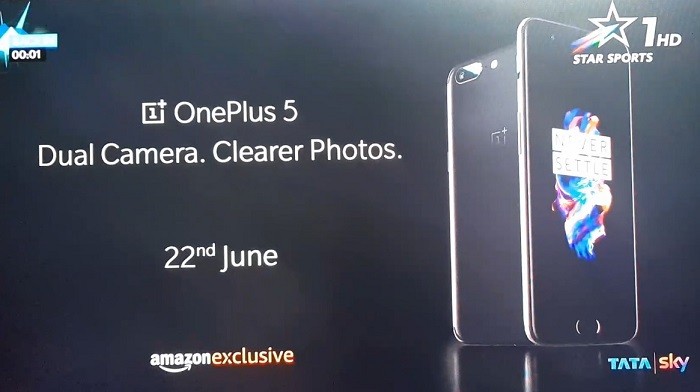 We have seen some renders of the OnePlus 5 in the past and the company had also shared an image of the OnePlus 5 showing off the dual camera setup at its back. However, we were yet to see the phone from all other angles, officially. Well, this just happened during yesterday's finals.
An advertisement was aired (see above) by OnePlus during the break that featured Bollywood superstar Amitabh Bachchan. He is shown opening a box which contains the OnePlus 5 and asking about the India launch of the smartphone which is set for June 22. This is then followed by the official render (see first image) of the OnePlus 5 shown off which gives us a much better look at it.
The advertisement re-confirmed that the OnePlus 5 will be launched in India on June 22 and will be sold exclusively through Amazon India. Well, as you can see from the official render, the OnePlus 5 has a dual camera setup at its back and has design similar to the iPhone 7 Plus. The edges also seem to be more curved than its predecessor and you can also see the fingerprint scanner at the front which looks similar to the one on OnePlus 3 and 3T. And of course, needless to say, it's in black.
Well, we must say that OnePlus chose the right time to advertise the OnePlus 5 in India, because firstly, India is a cricket crazy nation, and secondly, a cricket final between India and Pakistan is the mother of all games. We are pretty much sure that millions saw this OnePlus 5 advertisement during the game. Let's see how well the OnePlus 5 sells in India.