With every other phone now comes with a fingerprint scanner, not all of them have a full featured gesture-based fingerprint scanner. The Honor 5X features a fingerprint scanner on the back just like we saw in the Honor 7. It features a 2nd-gen multi-purpose rim-free fingerprint scanner on the back. The scanner is highly adaptive with a self-learning ability of your aging fingerprints improving the overall accuracy of the fingerprint scanning. Let's have a look at the overview of the Honor 5X fingerprint scanner below.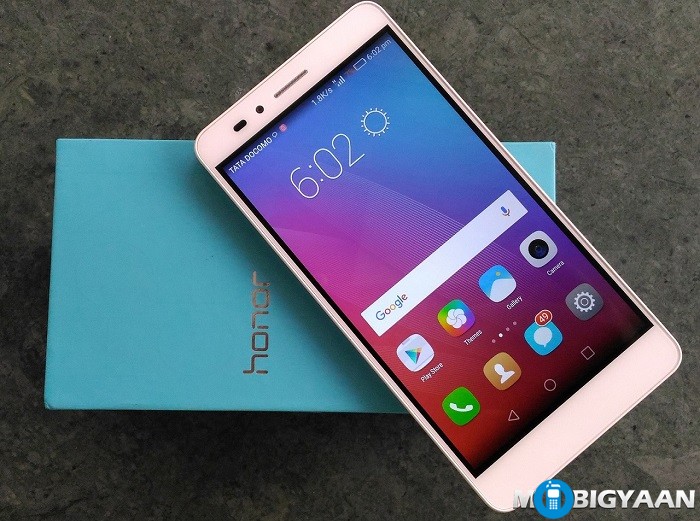 Unlocks the phone in 0.5 seconds with 100% accuracy
Honor 5X has a fast and accurate fingerprint scanner on the back. It can unlock the phone in 0.5 seconds with 100% accuracy. Whenever you put your finger on the scanner, it unlocks the device instantly and it doesn't require you to wake the device before putting any of your finger i.e. without pressing any buttons, the phone can wake up and unlock directly by just putting a finger on the scanner. Some Samsung and Gionee devices need to press the power button or home button to wake the device before you place the finger on the scanner. The Honor 5X fingerprint scanner has better features comparatively.
Rim-free touch fingerprint scanner
The fingerprint scanner on the Honor 5X is rim-free i.e. it does not have any sharp edges making it a smooth touch on every use. The rim-free scanner feels highly comfortable when you put your finger to unlock the phone.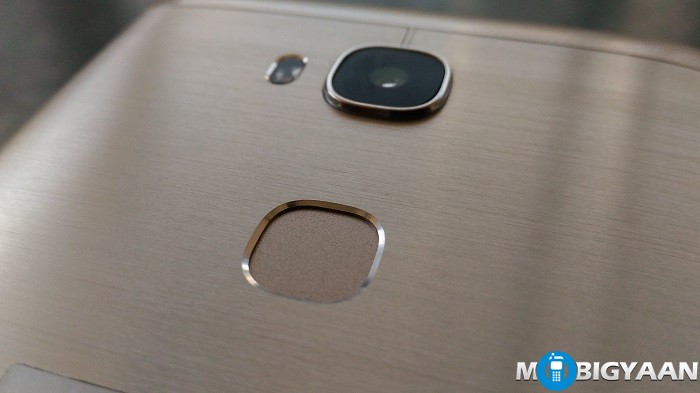 360 degrees finger recognition
Honor 5X recognizes all the fingerprints in all the directions. No matter how you put the finger, it recognizes in 360 degrees. Let it be upside down or sideways, it unlocks the phone without any hassle.
Unlock with a wet finger
Honor 5X can also be unlocked with wet fingers. The scanner is very accurate and even recognizes the wet fingers. Not many smartphones can do it, I did with Sony Xperia Z5, Samsung Galaxy S7 and OnePlus 3, however, it never worked out for me but with Honor 5X, it doesn't matter, the scanner works fine with wet fingers.
6 attempts required to add a fingerprint
The Honor 5X fingerprint scanner needs just 6 attempts to add all your fingerprints. To setup a fingerprint on Honor 5X, you have to verify only 6 times which is a way too short than the smartphones that require over 19 times verification. Honor 7 and Honor 5C also the ones that require 6 attempts for adding a fingerprint.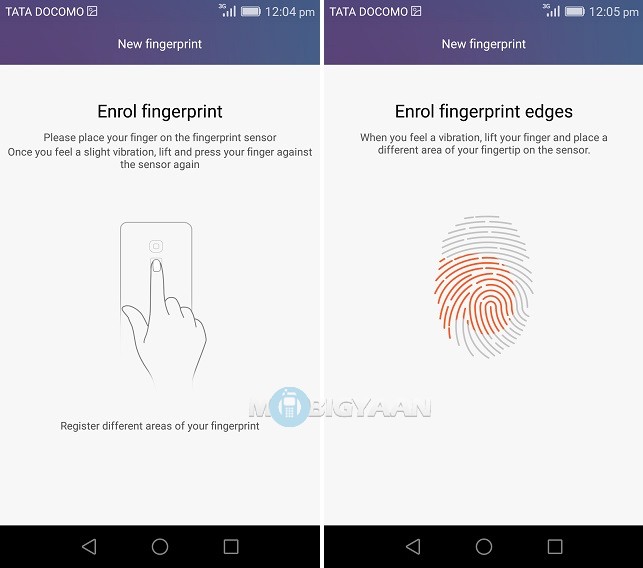 Supports up to 5 Fingerprints
You can add a maximum of 5 different fingerprints on the phone. Honor 5X supports up to 5 fingerprints at a time. If you want to add another fingerprint, just add it from the settings and you've two fingers that unlock the device. Similarly, adding multiple fingerprints is way more convenient for you if one of your fingers is engaged in some other activity. If you reach the maximum limit of 5 fingerprints, remove any previous one that you don't use and add a new your new fingerprint.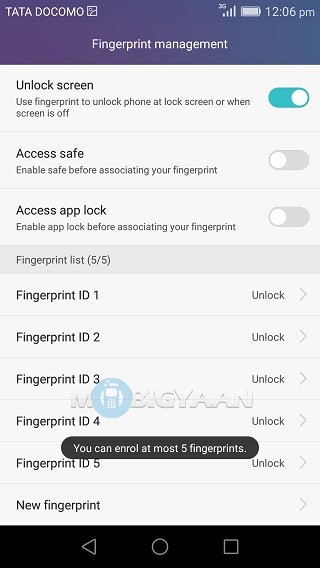 Secured and Trusted
Honor 5X takes care of the fingerprints you add at a chip level security. They all are stored in encrypted storage so no other apps or intruders can hack the phone to get your fingerprints. All the fingerprints are highly secured with ARM Trust Zone.
Other use of the fingerprint scanner
Honor 5X fingerprint scanner is not made just to unlock the phone, but locking apps, taking photos, answering calls, stopping the alarm, quick launch the apps, access file manager, manage the notification panel, and much more. You can access it under Settings -> Fingerprint ID. Turn the respective sliders to ON for enabling the gesture features.
How to add fingerprint on Honor 5X
To add a fingerprint on Honor 5X, go to Settings -> Fingerprint ID -> Fingerprint management. Tap the button 'New fingerprint' and add a fingerprint. If you are asked to a PIN or password as a security backup, add it and enroll a fingerprint. Repeat the process to add multiple fingerprints.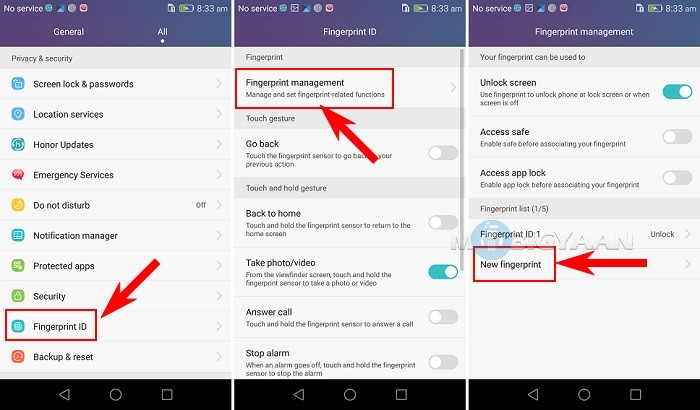 Are you known to any other features of Honor 5X fingerprint scanner,?Please share them in the comments and let others know. Do check our Honor 5X review.