Riding on the wave of the upcoming Marvel movie Doctor Strange, Honor has now launched the limited edition Honor 8 Doctor Strange version in the UK.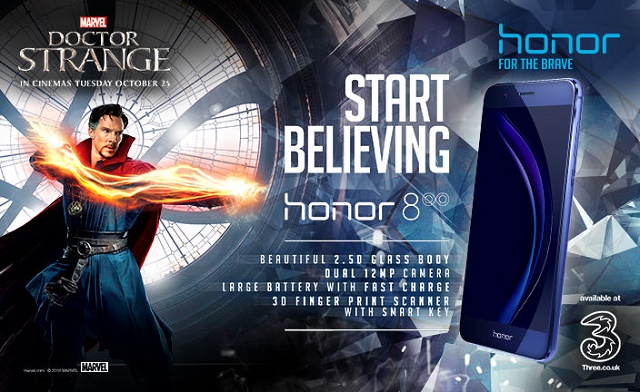 Honor has announced the partnership with Marvel for the upcoming Doctor Strange movie starring Benedict Cumberbatch and has launched the Honor 8 Doctor Strange version. The limited edition handset comes etched with the Eye of Agamotto from Doctor Strange.
As part of the partnership, Honor is giving customers the chance to claim two adult cinema tickets for Doctor Strange and four Marvel movie downloads courtesy of Honor and Three. Fans can access the promotion when they purchase an Honor 8.
The Honor 8 sports a 5.2 inch full HD display and is powered by the octa core Kirin 950 processor with 4 GB of RAM. Also present is the much talked about 12 MP dual camera setup on the back with a 8 MP camera in front.