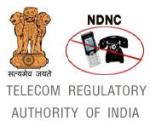 After registering your preference, you may feel the need to change your registered preferences for not receiving commercial communications or for receiving selected commercial SMSes. But this can happen only after expiry of three months from the date of registration or three months from the date of last change of request.
You can change your registered preference simply by either dialing 1909 or sending a SMS to 1909
 
By dialing 1909
By dialing 1909, you have option of either talking to Customer Care Executive or you can change your preference through IVRS system .In case you opt for Customer Care Executive, ask for the change in your registered. Block the categories you want to block or Add the new categories that you wish to have. Same way by IVRS system, opt for changing your registered preference by simply following the instructions. The customer care executive & the IVRS system will confirm your preference(s) and register the same in the Provider Customer Preference Register. You will get an SMS confirming the preferences exercised by you along with unique registration number.
By Sending SMS to 1909
You can also change your preference i.e. stop your earlier options or add new options to the already exercised preference by sending an SMS on 1909 in a specified format.
For stopping the existing options, send the SMS "STOP "
For adding a new option to the already existing preferences, send SMS
"START " which you want to add.
For example,
A subscriber with an existing option of 2 (Real Estate) and 3 (Education) who wants to opt out of 2 and add 4 (Health) will send an SMS as under:
"STOP 2" for opting out from SMS relating to Real Estate and
"START 4" for opting to receive SMS relating to Health
In case you now want to fully block all communication just send SMS "START 0".
After this, you will get the confirmation SMS for the same. To confirm this, you need to send Y or N, to complete the procedure. After confirmation from you, the mobile operator sends SMS indicating you preferences along with your unique registration number.