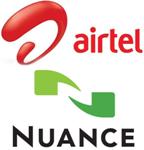 Bharti Airtel and Nuance Communications announced the launch of an innovative voice service titled 'One Number, One Voice' –  through which airtel mobile customers across India to access major voice based services offered by the company by dialing a single number – 54321. The 'One Number, One Voice' includes service like Hello Tunes, airtel Radio, News, Sports, Devotional, Astrology and Jokes. Customers need to dial 54321 to access the desired content, thus making it east to search
the content. 'One Number, One Voice' is available at a charge of Rs.2 per minute.
Powered by Nuance Recognizer 9.0, an automated speech recognition technology, 'One Number, One Voice' would be available for airtel customers across Madhya Pradesh, Tamil Nadu, Chennai, Kerala, Chandigarh and Uttar Pradesh (East & West) only. The service currently supports English, Hindi, Tamil and Malayalam and will be rolled out in other languages in the near future.
According to Mr. Shireesh Joshi, Chief Marketing Officer-Mobile Services, Bharti airtel said, "At Bharti airtel, we are constantly looking for ways of delivering the best user experience for our 150 million plus customers across the country and accounting for their diverse preferences in language and relative comfort in interacting by voice or text. Our 'One Number, One Voice' service provides our customers with the dual benefit of a single number of access for VAS services and the ease of voice recognition with multiple language options – giving him a simple and improved service experience." He added, "Today, as we join hands with Nuance Communications for the launch of our 'One Number, One Voice' service – we look forward to leveraging their expertise towards delivering an improved 'search and discover content' experience for airtel mobile customers across India."
According to Mr. Michael Thompson, Senior Vice President and General Manager, Mobile Division, Nuance Communications, "We're experiencing an unprecedented demand for voice services, as they provide consumers with a fast and intuitive way to access a broad range of content."  He further added that, "Bharti airtel's One Number, One Voice service is an incredibly innovative initiative that brings the power of voice to millions of consumers across India, providing access to exciting content-driven voice services through a single number and simple voice commands."