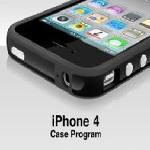 Apple recently announced that it will give away free cases to iPhone 4 buyers. You need to download a free app onto your iPhone 4 to apply for your free Bumper or case. This free app can be downloaded from http://itunes.apple.com/app/iphone-4-case-program/id383941000?mt=8
The app will check the IMEI and serial number to verify that you have an iPhone 4. Once eligibility is confirmed, you will be able to choose an iPhone 4 Bumper or other case. The Bumper or case will be shipped to you free of cost.
To be eligible to get Free iPhone 4 Bumper or Case  iPhone 4 purchase must be made by September 30, 2010. For iPhone 4 purchases made before July 23, 2010, you must apply no later than August 22, 2010; otherwise, you must apply within 30 days of your iPhone 4 purchase.