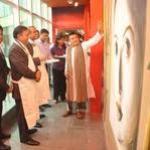 Sunil Bharti Mittal, Chairman and Managing Director, Bharti Airtel Group, officially unveiled a 5 storey high mural conceptualized and created by Manav Gupta at the Airtel Centre in Gurgaon, recently. This piece of art is co- created by over 3500 employees of the Airtel Centre and thereby encapsulates the collective spirit, innovative minds and creative approach of the employees of the company.
Airtel Centre in Gurgaon spread over 6, 85,921 sqft of vibrant efficient space. It houses all the businesses of the Group viz. Mobile services, DTH, Enterprise and Telemedia.
Speaking about the creation of the mural, Sanjay Kapoor, CEO, India & South Asia, Bharti Airtel said, "The elements of nature have been woven together to capture the core values of Airtel and highlight the One Airtel Spirit. It is a true reflection of the collective approach & innovative minds of our company. We thank all the Airtel employees who participated in co-creating this mural with Manav Gupta, who has been the "Sutradhar" in channelizing our vision into this mega masterpiece."
Spread over five floors and towering over 60 feet, the interior of the building has been used as a canvas to lay out the mega masterpiece.
Manav Gupta, an internationally acclaimed multifaceted painter, poet and performance artist, undertook the goal of creating a contemporary work of art "Tree of life" at the Airtel centre. Under the guidance of Manav Gupta, around 3500 Airtel employees created the mega masterpiece.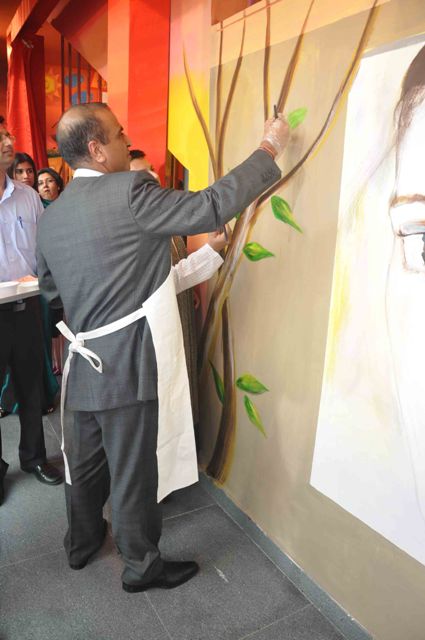 Mr. Mittal giving a final stroke to the Airtel Mega Masterpiece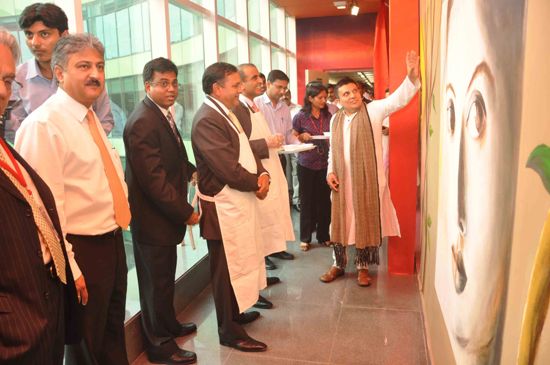 Manav Gupta explaining the 'Tree of Life' to the Airtel management