By now, what we know about the HTC 10 is that it is going to be unveiled on April 12 and that it is powered by Snapdragon 820 SoC and 4 GB RAM. HTC has been teasing this device lately and the latest teaser hints at the performance aspect of the HTC 10.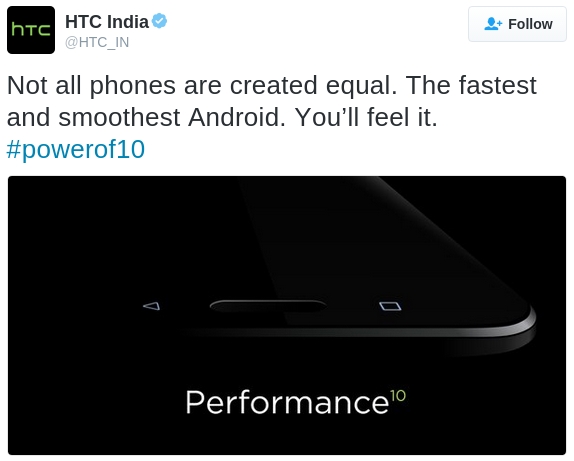 HTC India tweeted "Not all phones are created equal. The fastest and smoothest Android. You'll feel it. #powerof10". The image shared by HTC India also shows off the capacitive navigation keys along with the Home button. Also written in the image is Performance to the power of 10. All this means is that the HTC 10 will be the fastest smartphone at the time of unveiling, at least that's what HTC is trying to say with the teasers.
Talking about the specs, the HTC 10 has got Snapdragon 820 SoC and 4 GB RAM under the hood. It also boasts off a 5.15-inch Quad-HD display, 12 MP rear camera and 5 MP front camera. Thankfully, the HTC 10 runs on Android 6.0.1 Marshmallow out of the box.
HTC 10 specifications:
CPU: 2.1 GHz Snapdragon 820 quad-core processor
RAM: 4 GB
GPU: Adreno 530
Operating System: Android 6.0.1 Marshmallow
Display: 5.1-inch Quad-HD (2560 x 1440 pixels) display
Rear Camera: 12 MP auto-focus with flash
Front Camera: 5 MP
Internal Storage: 32 GB
Connectivity: NFC, GPS, Wi-Fi, Bluetooth
Battery: Unknown
We can expect HTC to tease more features of this flagship smartphone as the unveiling event approaches.