Back in June, HTC confirmed that HTC 10, One A9 and One M9 will receive Android 7.0 Nougat update as soon as Google ships the code to them. Back then, there was no firm date given by HTC about the roll out of Nougat to its smartphones, but now, HTC has announced that they have received the final shipping of Nougat code from Google and will start the roll out in Q4 of this year.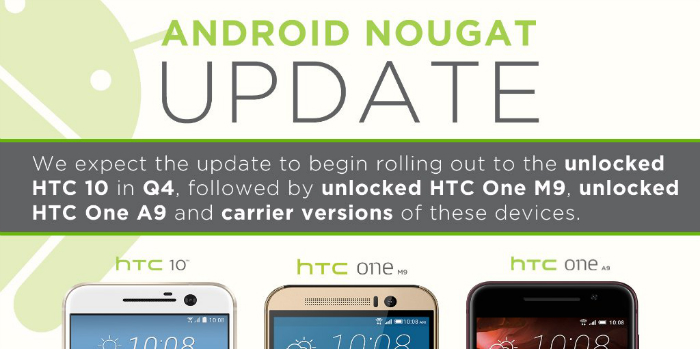 HTC shared the above shown image on Twitter by tweeting "We're excited to receive final shipping Android 7.0 Nougat software from Google!". HTC has said that the Android 7.0 Nougat update will be rolled out to the unlocked variants of HTC 10 in Q4 of this year which will then be followed by roll out to unlocked variants of HTC One M9 and One A9 and then carrier versions of all these three devices.
While most of the smartphones are still on Android Lollipop, it's good to see HTC sharing plans for upgradation of its devices. Obviously the Nexus devices are the ones which receive the latest updates first, but HTC's plan to update some of its smartphones before the year end is appreciated.
However, having said that, it remains to be seen if HTC really manages to update the above mentioned devices to Android Nougat before the year end. But, given the fact that HTC is doing good with the updates lately, we might actually see HTC 10, One A9 and One M9 getting updated to Android Nougat.
By the way, which version of Android do you have on your smartphone?