It seems today is the day of amazing launches all day. While we have already got the Nokia World releases and wait ardently for the iPads from Apple, HTC has acted like a silent devil and launched 3 new phones from the Desire series – the Desire 709d, the Desire 7088 and the Desire 7060. All three phones come with a Snapdragon 200 processor, a 5-inch screen, 1 GB RAM and Android 4.1.2 – Jelly Bean OS.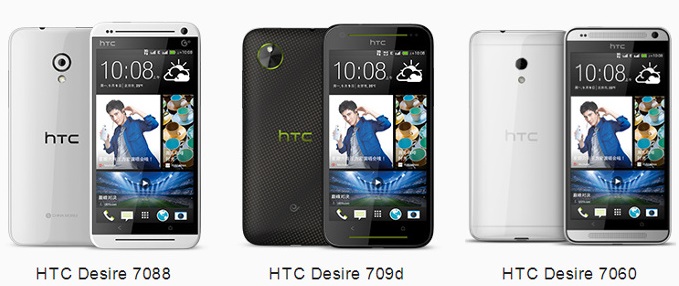 All three phones seems like different versions of the same thing. They come with a 5-inch 540 x 960 p qHD screen, 1.2 GHz Qualcomm Snapdragon 200 processor, an Adreno 203 GPU, 1 GB RAM, 8 GB internal storage, 64 GB MicroSD support, an 8-megapixel rear camera, a 2.1-megapixel front camera and a 2100 mAh battery each. The software on these phones is a bit old – they run on Android 4.1.2  and Sense 5.0.
All three phones have borrowed some features from HTC's besteller – the HTC One. They come with Blinkfeed, Highlight Reel and Boom Sound stereo speakers. They are all dual-SIM too.
The difference between these three phones is of the form factor. The Desire 7088 comes in a plastic form factor akin to the HTC Butterfly S. The Desire 709d will have a textured back panel. It will feature dual color plastic form factor similar to the Google Nexus smartphone, albeit with a glossy finish and large camera eye. The Desire 7060 will feature a thin from factor and will look similar to the HTC Desire 601.
HTC has not spelt out pricing or availability for the Desire 709d, Desire 7088 and Desire 7060 smartphones. They are currently available only in China.
Desire 709d, Desire 7088 and Desire 7060 specifications
 5-inch 540 x 960 p qHD screen
Android 4.1.2; Sense 5.0
1.2 GHz Qualcomm Snapdragon 200 processor
1 GB RAM; 8 GB internal storage
64 GB MicroSD support
8-megapixel rear camera; 2.1-megapixel front camera
2100 mAh battery