While we are certain that the HTC M8, which is frequenting the rumour mills these days, is the successor to the flagship HTC One, there has been a lot of confusion about the features of the device, fingerprint sensor for instance. But the new images of the casing of the device do help shed some light.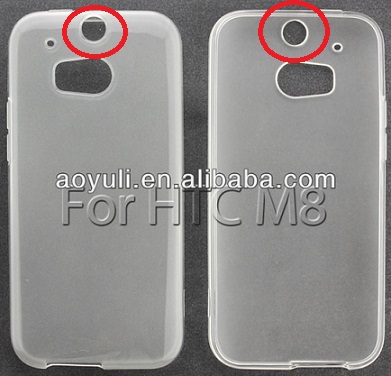 According to a series of casings of the alleged HTC M8, which inevitably show the design of the device, a large cut-out is visible just below the camera cut-out. Given that, the HTC One Max featured a fingerprint sensor, we could directly assume that the larger cut-out would house the fingerprint scanner. However, few sources believe this could also host an extra camera unit on the rear panel, which sounds preposterous.
A closer look at the wide cutting, makes it look perfect for someone to swipe their finger in the slot, adding more weight to the theory that the upcoming flagship would feature a fingerprint scanner. Similar cuttings have been revealed in earlier leaks of the cases, but this time the cut-out are is slightly wider.