HTC is known for its ability to design and to elevate the benchmark in aesthetics every time it introduces a flag-ship device. HTC One (Code name M7) is one such device that combines functionality, performance and design excellance in one pack. Back in February, when the HTC One was announced, it created a tide of expectations. HTC as a company is struggling very hard to gain a decent market share. HTC One was touted to be the saviour. Is it going to be the ONE to save HTC? Let us do an indepth review and find out.
Design and Hardware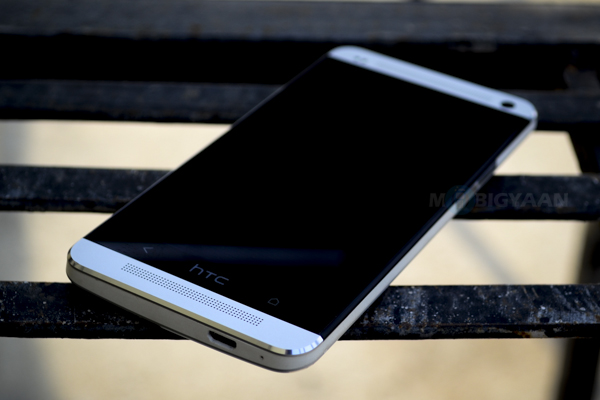 The HTC One is carved out of single block of aluminum. It is ringed on the sides with polycarbonate plastic and the front has corning 2 gorilla glass protection. Overall the materials used in the construction are of premium quality. The design is elegant and stylish. It's totally flat the front and neatly chamfered back add to the elegance. The dimensions and weight of the mobile are just right to hold in your hand and operate with ease.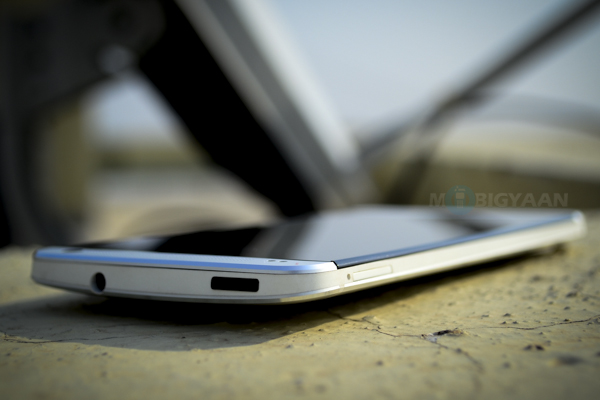 The top end has the power button and the audio jack. The power button also acts as an infra-red port for controlling your home media devices. But the placement of the power button is unusual. It's on the left side and you need to get used to it. The IR blaster works like a charm. It is so simple to setup the remote for your TV, Set-Top box and other media device in your living room. The TV setup application is in-built and if you are in US, it also give you a program itinerary along with synopsis.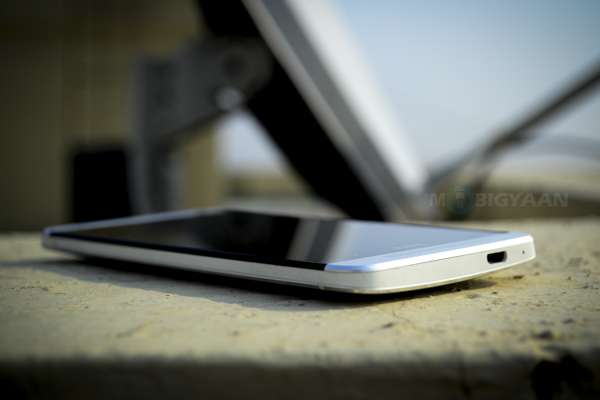 The right side has the brush metal finished volume rocker. The bottom has the mic and micro-usb socket. The left side houses the micro-SIM slot with a small pin hole to eject the SIM module tray. At the back you find the 4 megapixel (Ultrapixel) camera supported by a LED Flash. It also has the active noise cancellation mic. At the front along with the gorgeous super LCD3 capacitive 4.7 inch display you have the BoomSound dual stereo speakers. You also have the wide angle front facing camera along with the ambient and proximity sensors at the top. The buttons are capacitive and they have adopted a 2 button approach: The back button and the home button. To get to the task switcher, you have to double tap the home button. There is no menu button. It was difficult for me to get used to the 2 button approach. But I believe its just a matter of time until you get used to it. HTC wants to make the button experience as simple as possible.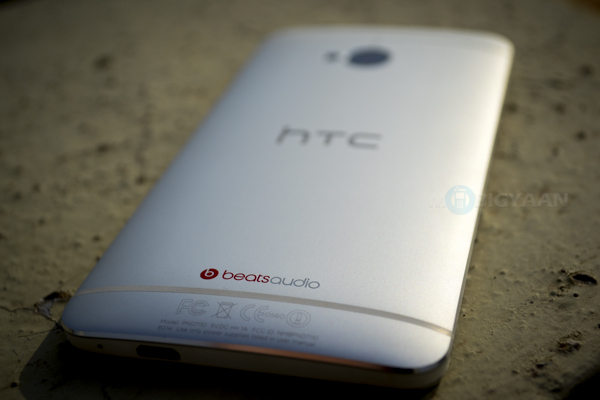 Under the hood, the device is powered by Quad-core 1.7 GHz Krait 300 CPU on a Qualcomm APQ8064T Snapdragon 600 chipset. The device graphics are supported by Adreno 320 GPU. The device has 2 GB of RAM. There is no option to expand the storage. But the mobile comes with 32 or 64 GB storage options. The camera sensor is huge for a mobile camera. It's a 1/3" size sensor with each pixels measuring upto 2 micro meter in size. The battery is fixed into the housing and is not removable by user. It's a Li-Po 2300 mAh battery.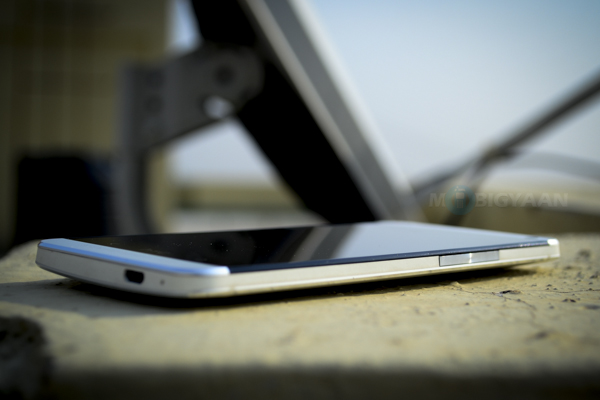 All the above are tightly packed between 2 aluminum housings with zero-gap in design. This design totally blew my mind. When you hold the device in your hands it feels like a perfect fit. The all metal design is the highlight here. No other device has felt such sturdy and posh in my hands like the HTC One.
Display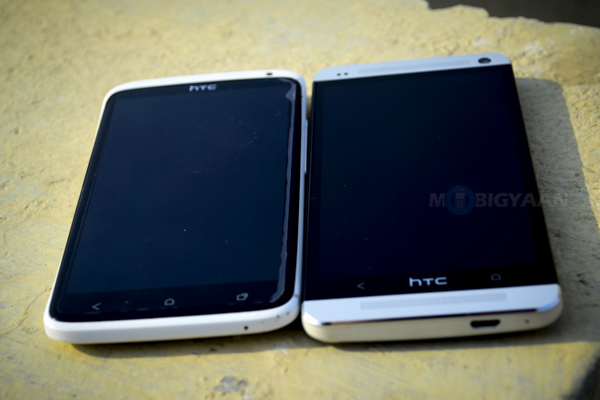 HTC One has a 4.7 inch 1080p Super LCD 3 Display with very high pixel density of 468 PPI. This is even higher that the xhdpi category of displays. The 1080p full HD display is simply brilliant. The resolution level is min blowing. As I said earlier 4.7 inch is the right size for a mobile device. Not the 5 inch or anything less. It's got very convenient viewing angles at both indoors and outdoors. Test and Hi resolution images are amazingly crisp and sharp at all situations. You will not notice any sort of discoloration or distortion at any point to time. HTC has done a great job with the display of HTC One. There is no other device on the market that can be compared to this level of brilliance, right now.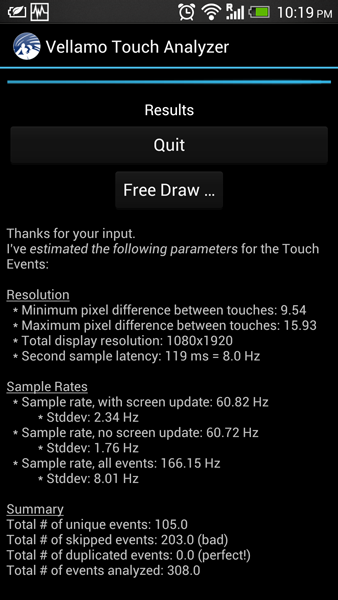 Performance
HTC One is powered by the Snapdragon 600 chipset with 2GB of RAM. It is capable of handling any heavy applications at ease. The Sense 5 by itself is a demanding skin. With features like Blinkfeed and Zoe, HTC One's processor makes it look easy on the performance. The Adrene 320 GPU aids a smooth multimedia experience. I played some graphic intensive game in the One and it was super smooth. There was no frame drop or dithering while playing games or full HD movies. Check out the bench mark tests. Pictures speak a lot more than words can. The only device that beats the quad core HTC One in performance is the Samsung Galaxy S4 with Octa core processor.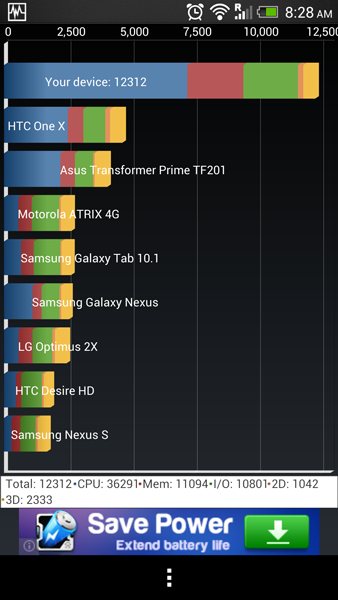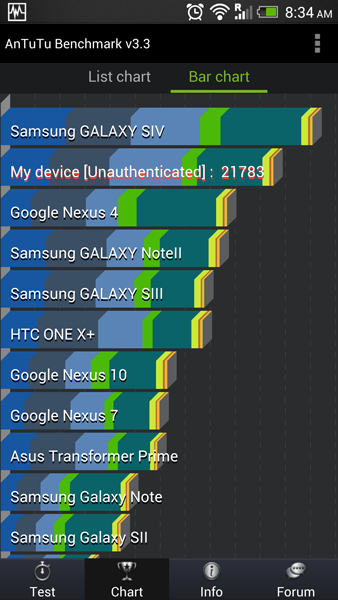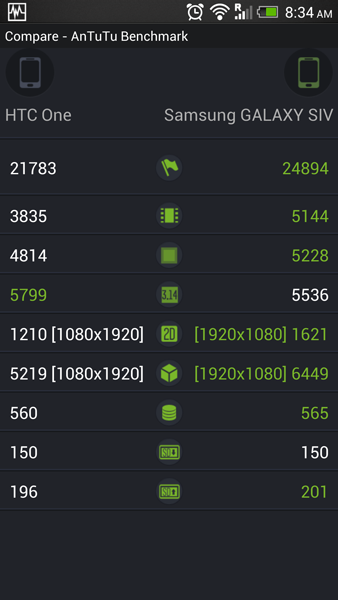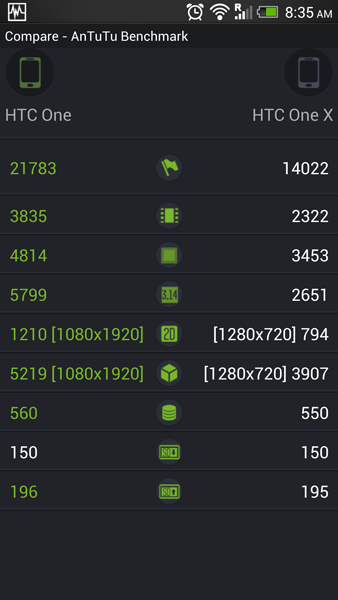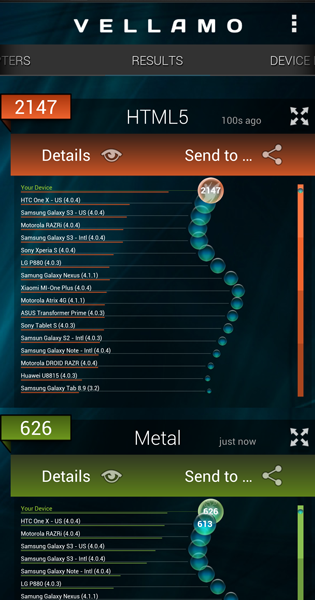 Battery Juice
HTC One has a 2300 mAh Lithium Ion Polymer battery. A bigger battery capacity does not mean better life. HTC One's efficient onboard processor and Android Kernel used in the 4.1.2 version makes it one of the better performing batteries in the current market. But the battery takes a litter less than 4 hours to charge from zero to 100 percent. Once charged, it stayed on for one and half day of regular and routine usage. If your usage includes a lot of camera related activities, gaming and browising over 3G, then the battery would last for a little over 8 hours. It's a major improvement over the One X variants. The HTC One's battery performance is satisfactory.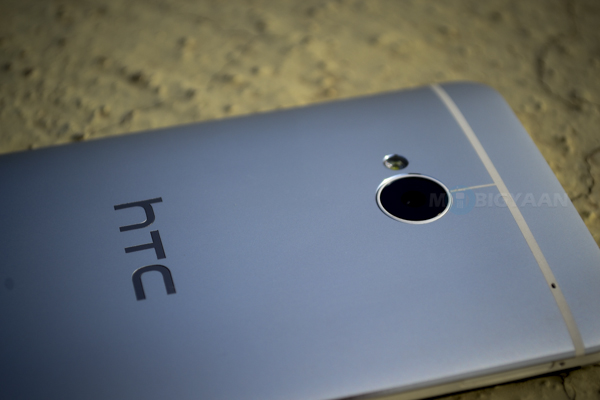 Say Cheese!
HTC has 4 megapixel camera, but each pixel is larger than a regular pixel. The lens is a F/2.0 and each pixel is 2 micron pixels allowing more light information to fall on the 1/3" large CMOS sensor. All this put together makes the "Ultra-Pixel". If that explanation has been more technical, here is a simpler version. HTC One has a technology that allows capturing a lot of light to process more detail and eventually give you a better imaging experience.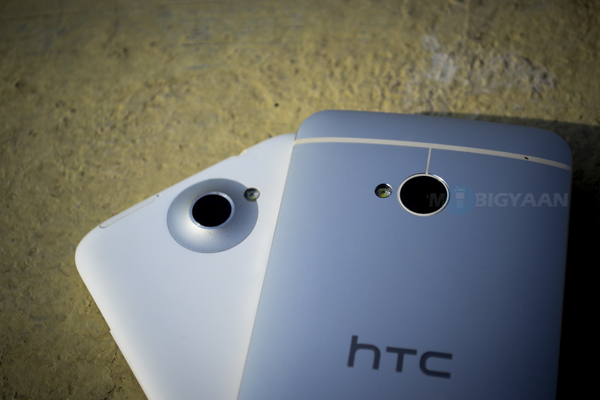 HTC One has optical image stabilization. This helps you get sharper images, even if the camera shake is deviating the image by +/- 1 degree. Actually you can see the OIS at work, if you closely watch the lens while shooting and slightly shake the camera. The lens parts move to compensate for the shake.
The front facing camera is also remarkable. Though its not an ultrapixel camera, it has a 88 degree super wide lens of 22mm. It's a 2 MP camera module capable of capturing remarkable images and full HD videos.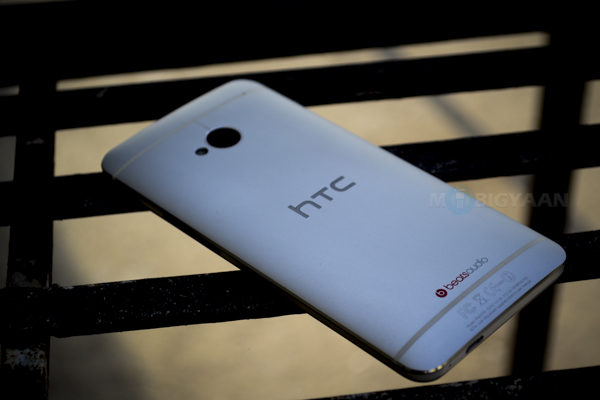 Sense 5 has brought in some subtle changes to the camera UI. Drag from the edge and you can switch front and rear cameras. The left side has Flash control, zoe button and settings. Right side has zoom control, shutter activators for still and videos along with Shortcut to gallery and filters. Under the settings, you find the photo capture modes: Normal, Night, HDR, Swep Panorama, and tapping drop down gives Portrait, Landscape, Backlight, Text, Macro.
The images out of the HTC One behave as if there are 2 different cameras inside it. One for well-lit images and the other for low light situations. In well-lit out-door the camera seems to apply a lot of noise reduction algorithm making the images lose out on sharpness. Also given the lower resolution of the output, the image is not of print quality. On the other hand, low light photographing capability of the HTC One totally took me surprise. The images were very good. Usually in images captured in low light situations by a point and shoot camera or a mobile camera would be dramatic and unreal. That's because the shutter speed becomes slow in night mode and either there is a lot of shake or some portions of the frame are more exposed than other areas. But in the HTC One, shutter speed is not compromised. The large sensor and large aperture along with optical image stabilization gives great looking low light photos.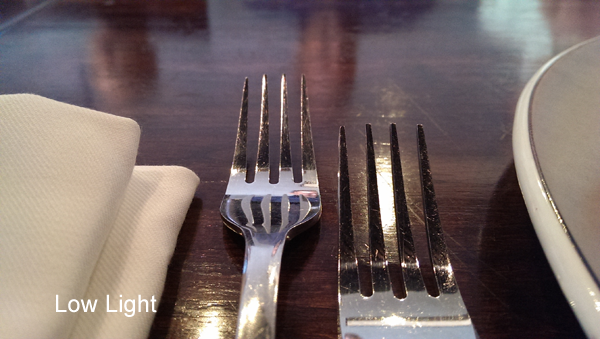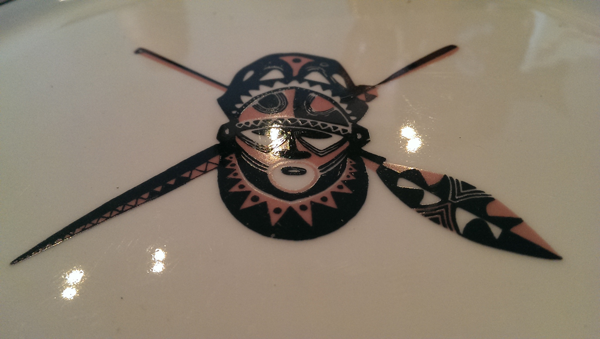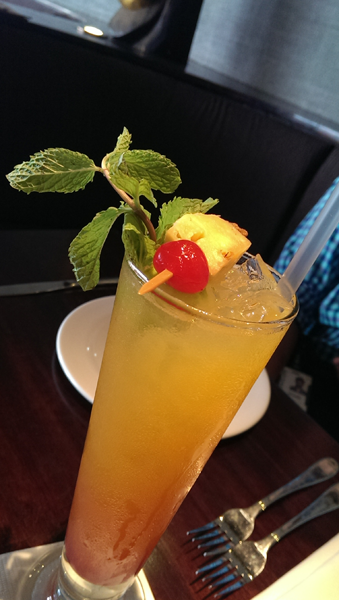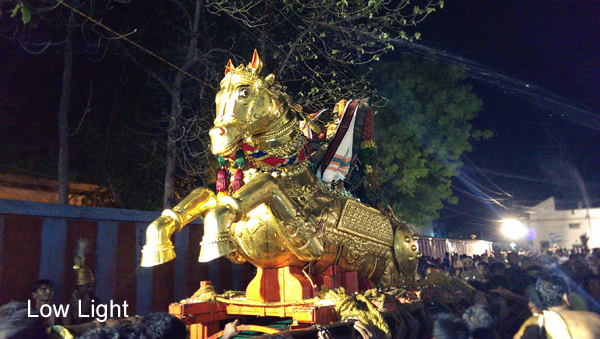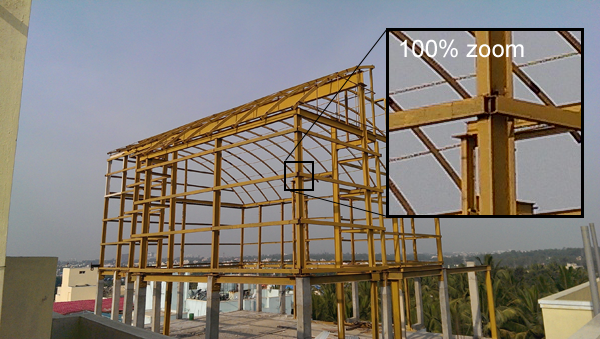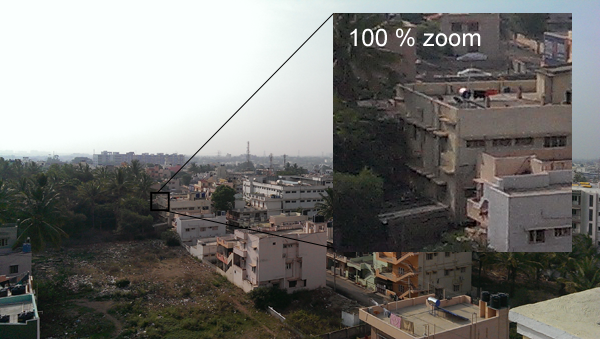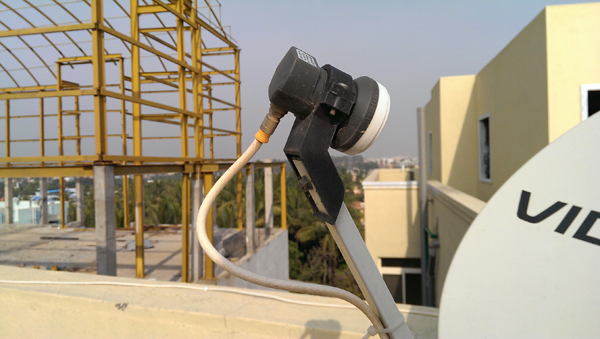 Like other smartphones out there HTC One's camera module also considers its users to be dumb. There are very few manual controls. Of course there is exposure compensation, ISO settings etc… but the day will dawn only when smartphone has advanced photographer mode like controlling shutter speed and aperture. HTC One's camera hardware has the potential, but the UI and software has not exposed or exploited this potential.
HTC One supports video recording at 1080p 30FPS normally, slow motion videos at 768×732 96FPS, HDR Videos at 1080p 28 FPS and 720p 60FPS for fast HD videos. It is assisted by the dual membrane MEMS microphone for superior sound recording and Optical image stabilization for steady videos. The quality of videos is good. There is no frame drop and the bitrate is high. The HDR mic adds to superior sound recording along with the video. Again low-light videos out-shine day light videos.
Zoe THORP
The HTC One cannot be called as an innovative device, if not for ZOE. The superior camera, better performance of processor, dual membrane mic, BoomSound speakers are all part of the package. But that doesn't compel a buyer to own the HTC One. ZOE does that. It's altogether a game changer. Zoe is a new experience in clicking photos. When you click a ZOE image, it actually captures a 3 sec video clipping. The 3 second video is stored as one 1080p 24FPS video file and twenty 4MP still images in your storage. ZOE captures are exposed at live images in the gallery. Your captures actually have a movement. It looks like something out of the Harry Potter movie. ZOE is not just an eye candy. The real power of ZOE is in the editing room. When you are editing a ZOE image, you get a plethora of features. You can make actions shots to record a sequence in one image. You can choose the right frame for each person in a group photo, in which they look the best.
Apart from this, ZOE in gallery creates, something called as Highlights reel. All your day's pictures are automatically collated to form a small presentation with music and effects. Lets say you go out for a party with your friends. End of the day you have some 100 pictures to share. Instead of sharing all 100 pictures, just share this 30 second Highlights reel with your friends and the story is shared with dramatic effects and music. You have a few inbuilt themes and they are not customizable.
The experience of viewing, sharing and editing media content has been rewritten with ZOE. This is a great feature and will definitely make the HTC One stand tall in the crowd.
Boom Boom
HTC One has got the best speakers among all the high end smart phones out there. The dual BoomSound speakers are intelligently located on the front. The sound output is very crisp and loud as well. It handles Bass and treble very well. Beats audio is active for BoomSound speakers. In HTC One X, Beats audio will be activated only if your headphones are connected. But that's not the case with HTC One, because of the high quality speakers built into it.
Wrap Up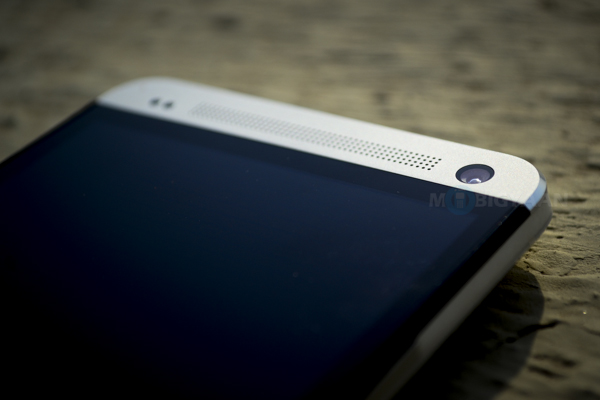 HTC never attacked the market with brute force marketing unlike Samsung. Yet they expect their devices to rule the market by simply winning the hearts of user. They want their devices to do the talking for itself. This can't work anymore. HTC has to invest better in marketing and promoting the device, though the HTC One is Quietly Brilliant. The HTC One is everything your phone isn't. It is a worthy upgrade from whatever mobile you have. It is way ahead of other smartphones in terms of design and user experience. When it comes to buying decision, it's logical to get confused between the HTC One and the Samsung Galaxy S4. The S4 is also a great device when it comes to display quality, feature list and processor. But the HTC One beats the S4 in-terms of innovation, design, premium look and feel along with functionality. We give a double thumbs up for HTC One and have rest of our fingers crossed awaiting HTC One to win.
HTC One 32GB is priced at Rs 42900 and is now available in India.