We have heard about the HTC One X+ a lot of times now and it seems that the announcement of the device might not be too far away. We expected HTC to make the device official with the official unveiling of the HTC 8X and HTC 8S but that didn't happen.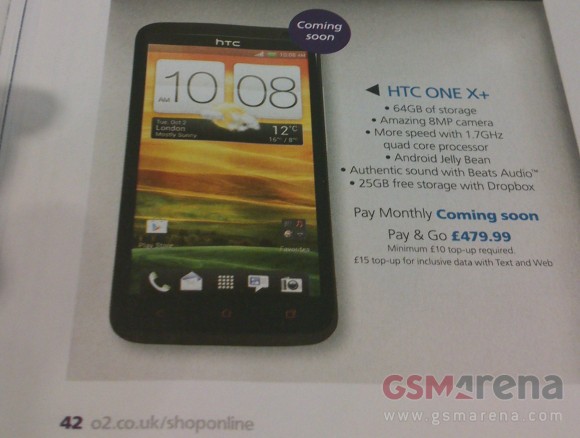 But a picture of the device has popped up which suggests that the device is heading to UK's carrier O2 very soon.
And the specifications of the HTC One X+ which have leaked on multiple occasion are the same as per the official O2 brochure as it states that the HTC One X+ is to arrive with:

Powerful 1.7 GHz quad-core processor

Android 4.1 Jelly Bean out-of-the-box

8 MP camera

Beats Audio

64 GB of internal storage

25 GB of cloud storage with Dropbox
The device has been priced at £479.99 and will be available on a pay as you go plan whenever it is launched on O2's network.