We just heard about HTC planning to launch its next-gen flagship, the HTC M7 with a three layer 4.3 MP camera (totaling to about 13 MP) which will process the image into one and give us a super clear and crisp image and could be called as 'Ultra Pixel'.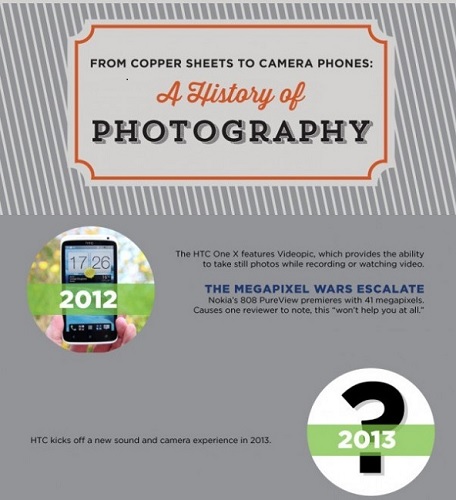 And HTC has now teased an infographic which lists the history of photography and the rise of cameras in mobile phone. The company also takes a knock at its competitors like iPhone 4S and the Nokia 808 PureView and promises that the Taiwanese giant has "a new sound and camera experience in 2013" for all of us.
While the Ultra pixel technology still gives us an idea as to what we could expect in the camera experience, there is no news as to what new sound experience will HTC pack in the HTC M7 when we already have the Beats Audio packed into the HTC Smartphones.

The HTC M7 is rumored to arrive with:
4.7-inch full-HD display

Pixel density of 468 PPI

1.7 GHz quad- core Snapdragon S4 processor

2 GB RAM

32 GB internal storage

Expandable using microSD slot

Android Jelly Bean

HTC Sense 5.0

13 MP camera at the rear

2 MP front facing camera

Beats Audio

2300 mAh battery
Check out the full infographic below.