The difference between tablets and smartphones was ended with the Samsung Galaxy Note by launching with a 5-inch screen and thus came to birth a new category called 'Phablets'.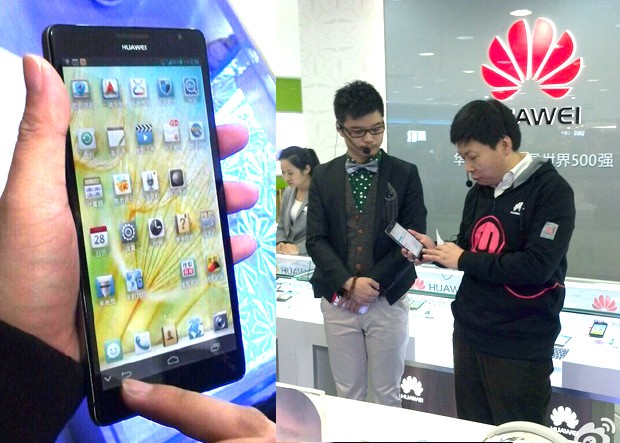 We already knew that the 5-inch mark was to be crossed and 6-inch phablets will launch in the year 2013, Karbonn A30 became the first smartphone to launch with a 5.9-inch screen.

And Huawei feels that prospective buyers would indeed fancy a 6.1-inch Android smartphone with 1080p display and is set to launch its Huawei Ascend Mate at the upcoming CES 2013.
 
But it seems that Huawei CEO Richard Yu was just too much excited to wait and he unveiled the 6.1-inch monster to the world at a Huawei Store as you can see in the pictures above.
 
The full-HD 6.1-inch display with arrive with a pixel density of 361 PPI and the phablet will be powered by a 1.8 GHz quad-core HiSilicon K3V3 processor. The Ascend Mate arrives with a 9.6mm thin profile and will be powered by a whopping 4000 mAh battery.
 
Huawei will still make an official announcement at the CES 2013 and we will then have more detailed information on the Ascend Mate. The Mate is expected to retail for about ¥3,000 or $480.
 
For now, catch the device in action for a few seconds in the video embedded below and do let us know your thoughts on the 6.1-inch giant.