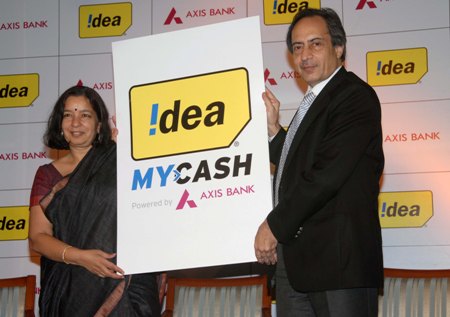 Idea cellular and Axis bank have taken the initiative and launched "Idea MyCash" which is a facility intended at providing basic banking services including money transfer, using the mobile platform. It includes mobile based financial services providing basic banking services like cash deposit, cash withdrawal and balance enquiry and will also enable money transfer between the migrant population in urban areas to their beneficiaries back home. The remittance facility is being offered in the Dharavi , Allahabad remittance corridor to begin with and will be extended to other remittance corridors subsequently.  This will be the first Financial Inclusion initiative in the country available through cell phones.  Idea Cellular and Axis bank had signed a MoU to come together for the Financial Inclusion where Idea is to act as the business correspondent of Axis Bank and distribute the complete range of financial products and services offered by the Bank to the un-banked and under banked population segment.
"Idea has demonstrated the capability to reach out and connect the remote corners of the country and enable the economic and social development of the weaker sections of society. Idea MyCash, in association with Axis Bank, will ride on our deep rooted network to make banking services accessible to millions of Indians and include them in the economic development through financial inclusion, "said Mr. Sanjeev Aga, Managing Director, Idea Cellular.

Ms. Shikha Sharma, MD & CEO, Axis Bank, speaking at the launch said, "Axis Bank in association with IDEA Cellular is offering a branchless banking solution that provides the elements of security, access and convenience in a cost effective manner. This association in a larger context enables the Bank to undertake financial inclusion by providing a host of financial inclusion products and services through the IDEA mobile platform and offered through select IDEA retail outlets.
The remitter being an Axis Bank customer having a No Frills Savings account can initiate a remittance through Axis bank ATMs or through the internet. An account holder having an Idea connection can also initiate a remittance through a mobile banking platform. Being the business correspondent, Idea would facilitate the opening of the No Frills Savings Account. The beneficiary who is an Idea subscriber does a onetime Account opening activity at an Idea Retail outlet through submission of KYC documents, which subsequently get verified by the nodal Axis Bank Branch. An interactive mobile banking platform has been developed for both the remitter and beneficiary side to provide an easy mechanism for the remitter to initiate the remittance through Idea mobile and for the beneficiary to interact with the Idea M-Commerce platform for facilitating cash out at the Idea retailer.