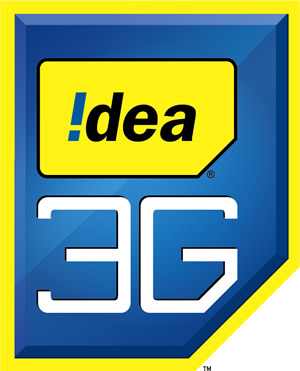 Idea Cellular today announced the launch of 3G services on its network in MP & Chhattisgarh, Gujarat and Himachal Pradesh today. Idea won 2.1 GHz (3G Spectrum) in 11 circles – MP & Chattisgarh, HP, Maharashtra & Goa, Gujarat, Kerala, Haryana, UP East, UP West, AP, J&K and Punjab – which contribute over 80% of the company's revenues
.
Idea's 3G services will be available in 200 towns by mid April '11, progressively growing at the rate of 10 towns per day to cover 750 towns by mid 2011, and 4,000 towns by the end of FY12. Idea has traditionally focused on growth from semi-urban heartlands of India and will continue to drive its 3G services from these industrial, agricultural and educational regions.

To anchor the occasion, Idea unveiled a new 3G logo. The new branding will be implemented throughout India, across all customer touch points. Idea has set up 'Experience Kiosks' to provide a flavour of the services that customers can opt for. These will be available to all users at select 'My Idea' stores.
On the occasion of the 3G launch, Mr. Himanshu Kapania, Deputy Managing Director, Idea Cellular said: "3G services will mark the beginning of the next phase of India's telecom growth story and bring the sector on par with the most advanced telecom markets in the world. Beginning today, Idea subscribers will be the first in India to experience the Gold Standard in 3G services." Currently, 10% of Idea's over 86 million subscribers are said to be using 3G enabled handsets. It is expected that these users will be the early adopters of 3G services.
Speaking about the 3G network rollout, Mr. Ambrish Jain, Director – Operations, Idea Cellular, said: "Beginning with MP, Chhattisgarh, Gujarat and HP, Idea's 3G services will expand in a progressive manner to provide expansive coverage across 4,000 towns by year end. Idea will target areas of industrial and commercial activity, centres of learning, and high potential rural hinterlands where broadband is yet to make a breakthrough. Idea has set up the most extensive customer service network to educate customers on 3G and support their requirements, across the country."
Idea's 3G services will enable users to avail Video Conferencing, IdeaMall Application Store, Mobile TV, Video on Demand, and high-speed Internet Browsing. IdeaMall is Idea's Application Store which offers an entire catalogue of games and applications on Web & Mobile platforms. Idea claims that its 3G users will experience speed upto 21 Mbps on 3G handsets, and higher speed on other devices depending on the device capability. 
Interestingly in its Press Statement Idea Cellular indicated that the company is in process of finalising long-term arrangements with select quality operators for service areas where Idea was not awarded 3G spectrum. Together, these will enable Idea subscribers, throughout the country, to enjoy the Gold Standard in 3G services.