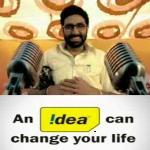 Idea Cellular has announced new Services for Delhi & NCR reason. Idea Cellular's new initiatives are – Idea City Life and Idea Inroamer.
'Idea City Life' is an information guide on the city of Delhi. Under this service, two Regular SMS Alerts relevant to the city on topics like Restaurant Reviews, Prominent Sale & Exhibitions, Theatre Schedules & Information, Movie Reviews and Night Life will be sent to the user, everyday. Additionally, there will be two alerts on the medal tally and games updates. Every SMS alert will carry a USSD code which can be dialed to know the Hot Deals, Movie timings/reviews, Nightlife, Eat Outs and Plays/Concerts relevant in the city. Idea subscribers can dial *777*11# to subscribe to this service for a price of Rs. 40 and validity of one month.
'Idea Inroamer Infoline' is an IVR based service with SMS integration, offering its users (both local and international inroamer) an opportunity to search for the location of Shopping malls, ATM's, Restaurants, Coffee shops and other service outlets in the city. The service offers region wise, state wise and city wise information to the users. Roaming customers can search their location in the city where they are roaming, on their mobile phones. This service is a guide for the roamers in select cities across India, including New Delhi. The infoline can be accessed by dialing 56665 for Rs. 3/min for National Roamers, and Rs. 49/min for International Roamers.
Idea Celluar also introduced Special ISD Tariff Vouchers to make cheaper calls to CommonWeatlh countries and US & Canada. With a recharge of Rs. 57, Idea subscribers can get ISD tariff of 1 paisa/second for calls to US and Canada, with a validity of 30 days. The tariff of 1p/sec would be applicable for first 300 min and thereafter tariff of Rs 1.99/min would apply. Other ISD tariffs are – UK @ Rs 6.4/min; UAE/ Saudi/ Qatar/ Bahrain @ Rs. 11/min; UK (Mobile) @ Rs 10/min; Australia/ New Zealand (Fixed) @ Rs. 10/min; Nepal/ Pakistan/ Bangladesh @ Rs. 11/min; and Afghanistan/ Cameroon @ Rs 15/min.