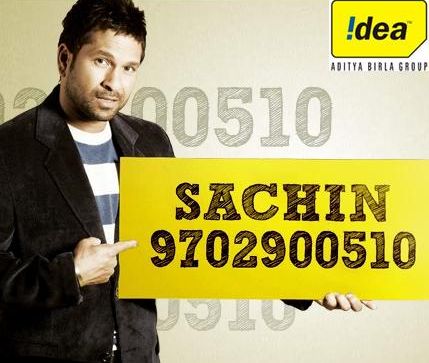 IDEA Cellular has received an overwhelming response with over two million calls and messages from the time it launched its innovative campaign based on the theme of "connecting fans with their cricket superheroes" following a tie up with Mumbai Indians in the second season of the Indian Premier League.

Ever since IDEA Cellular launched its communication campaign last week, the leading telecom operator received two million calls and messages with the master blaster Mumbai Indians Skipper Sachin Tendulkar topping the list with nearly 50 per cent of the calls, followed by spinner Harbhajan Singh and pace bowler Zaheer Khan.

Of the record calls and messages received by IDEA Cellular till April 30, Sachin received a record 9.5 lakh calls and messages on his ten digit Idea Cellular number of Mumbai followed by Bhajji at 7.05 lakh calls and Zaheer 1.3 calls. Similar calls and messages were also received on the ten digit numbers of other Mumbai Indian players including Sri Lankan Sanath Jayasuriya, West Indian Dwayne Bravo and hard hitting Mumbai batsman Abhishek Nayar.

Mr Pradeep Srivastava, Chief Marketing Officer, IDEA Cellular, said "we are really surprised by the unprecedented calls that had started coming in ever since we launched the campaign on April 30. We are indeed overwhelmed by the response the fans have shown and IDEA Cellular will make the call and SMS details available to the players.

Later during the tournament, IDEA Cellular, which has a pan India presence, will organize the cricket stars to return the calls of some of their fans. The campaign has been a huge hit amongst the youth community online as well, Mr Srivastava said.

The response to the campaign has been a huge hit with other telecom subscribers as well with over 75 per cent of the calls received from non Idea subscribers from all over the network. Circle-wise calls from Maharashtra topped the list with 4.5 lakh followed by Mumbai 2 lakh calls, and Delhi 1.10 lakh calls. Other circles including Andhra Pradesh, Karnataka and Rajasthan equally recorded a substantial number of incoming calls. rec

IDEA Cellular announced its partnership with Mumbai Indians as the team's Founding Partner, in the second season of the T-20 tournament. Just a few days later, the telecom brand launched an innovative campaign based on the theme of 'Connecting Fans with their Cricket superheroes'. IDEA advertised the mobile numbers of Mumbai Indians skipper Sachin Tendulkar, pace bowler Zaheer Khan, spinner Harbhajan Singh, and batsman Sanath Jayasuriya, and enabled people to call and SMS their favourite stars.