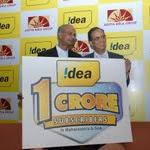 IDEA Cellular has reached milestone of 1 Crore subscribers in its 14-year-long relationship with mobile consumers in the Maharashtra & Goa circle. IDEA Cellular, an Aditya Birla Group company, was the first to launch mobile services in Maharashtra & Goa in 1996
On this occasion, Mr. P. Laxminarayana, Chief Operating Officer – Maharashtra & Goa, IDEA Cellular said, "Ever since the beginning, IDEA Cellular has been dedicated to the growth of telephony in this region. We have constantly strived to cater to the growing communication needs of the people of this state, and are proud to be the first mobile operator to reach the 1 Crore mark. This successful journey is a result of the strong faith expressed by our 1 crore customers, and our dedicated efforts to reach out to establish mobile connectivity in the remotest corners of the state".
Earlier, talking about the company, Mr. Rajat Mukarji, Chief Corporate Affairs Officer, IDEA Cellular said, "Maharashtra is special as this is where Idea started its journey from. Starting as a strong regional player with roots in this region, Idea has now grown to become the 3rd largest mobile operator, in revenue terms, nationally. Despite many odds and a strong competitive environment, Idea grew its revenue market share in the Indian telephony space, last year. We launched 7 new circles to become a pan-India operator, and the growth not just came from the new territories we entered, but we maintained the growth momentum in our established circles such as Maharashtra, as well."
In Maharashtra as well, Idea has strongly focused on penetrating deeper into the rural markets through various initiatives such as being part of Nokia Life Tools program; and the more recent ones being participation in Agri fairs like 'Swabhimani krishi Mahotsav' in Jaisinghpur, and Grameenon Ke Beech' a series of fairs in small towns and villages across Maharashtra with 10,000 to 20,000 populace. Besides, the Company has also been continuously reaching out to remote areas with vans fully equipped for subscriber activations.