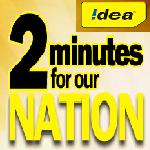 IDEA Cellular has initiated a national movement titled

'2mins for our Nation'

to bring together the citizens of the country on the occasion of Independence Day,

and the upcoming National Flag Day – A tribute to the Nation!
This Independence Day, IDEA invites all Indians to unite and proudly say "Jai Hind", through a vibrant digital portal www.bythepeople.in/jaihind, and the company's website www.ideacellular.com. As part of this initiative, visitors can register themselves and their friends and relatives for this nation building exercise. People can visit the website and submit names and mobile numbers of those who they wish to say 'Jai Hind' .The registered users will then receive a call on the Independence Day playing the soul touching composition 'Jai Hind' in the voices of some of the legends of Indian music including Pandit Jasraj, Pandit Hari Prasad Chaurasia, Pandit Zakir Hussain, Sonu Nigam, Javed Akhtar, Yesu Das, Jagjit Singh, Alka Yagnik, Shankar Mahadevan to name a few. The music played on the phone call on 15th August will be a one minute rendition of the "Jai Hind" song composed by Indian Music Academy in association with IDEA Cellular. The full version of the song can be played online, and downloaded from the website.
Through this initiative, IDEA has made an attempt to unite Indians in a single voice, virtually, through the mobile phone. The initiative being flagged off on the occasion of Independence Day on August 15th will continue until the National Flag Day on August 31st. Users who register on or after 15th August will receive the call any day between 15th to 30th, and a repeat on August 31st.