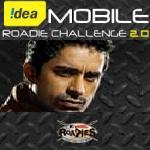 IDEA Cellular in association with MTV has launched a  online contest titled "Idea Mobile Roadie Challenge 2.0". A website powered by Tribal DDB India offers the 58 Million Idea users across the country, an opportunity to become an MTV Roadie, through an online audition. Previously, Idea had successfully conducted the first season of "Idea Mobile Roadie Challenge", which was a engagement online plus mobile contest.
To participate in "Idea Mobile Roadie Challenge 2.0", contestants can log on to www.ideastrikeback.com, where they will be greeted by VJ Cyrus Broacha, who conducts the online auditions. To proceed, contestants then need to dial an Idea Cellular number (09990177777) for further instructions.After the call gets connected, contestants are asked questions by Cyrus. To answer, they will need to dial either 1 or 2 on their mobile handset. The proposition of this particular site is its ability to integrate the user's dialed response with the questions and reactions of Cyrus on the website, on a real-time basis.
Upon the successful completion of the online audition, users will participate in a second stage – where users are challenged to prove their Roadie credentials by completing seven mobile tasks. Winner will not only win prize money worth Rs. 1 Lakh, but also get an opportunity to perform a final task on the MTV Roadies program.