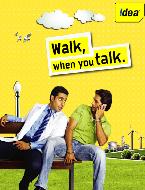 For those who have always aspired to be fit and healthy, but do not find time to exercise, Brand IDEA brings you a simple and effective solution –

'Just Walk when you Talk'

! This is yet another innovative campaign from IDEA Cellular focusing on 'Health & Fitness', and is set to sweep the country.
IDEA has planned a range of on-ground and digital activities around the theme of

Walk & Talk,

to mobilize people across different walks of life, age-groups and societies and get them to walk for fitness. IDEA plans to initiate a countrywide movement on Walking & Talking, and expects that 'Ek Idea pe chal padega India'
IDEA has recently released its new TVC which shows its Brand Ambassador Abhishek Bachchan playing a Doctor this time, who discovers how people can get fit by simply 'Walking while Talking' and advocates this idea to the general public. While responding to a journalist's query on whether technology was making people lazy and unfit; the Doctor responds by saying that people can be fit by just

'Walking & Talking'.

Soon, this message sweeps the country through TV, making it a mass movement.
IDEA's new campaign suggests that if 'Talktime' equals 'Walktime' for mobile users, their fitness scores can go up. IDEA has planned a range of innovative Outdoor and Digital initiatives as well, on this campaign.
IDEA campaigns have been fresh and imaginative and carry a touch of social relevance while exploring the power of category. 'Walk when you Talk' is fifth in the series of IDEA's brand campaigns with its Brand Ambassador, Abhishek Bachchan. The preceding campaigns around 'Participative Governance'; 'Education for All'; 'Championing a world in which no one suffers from the disability to communicate'; and 'Championing a world without Caste' have been huge hits amongst the audiences, making its tagline 'What an Idea, Sirji!' a popular metaphor.