Remember the very expensive and flashy mobiles from Vertu? The company which had a partnership with Nokia and used to run their phones on the very old Symbian OS? Well, after separating from Nokia, the company seems to have decided to try out Google's Android OS for its future smartphones.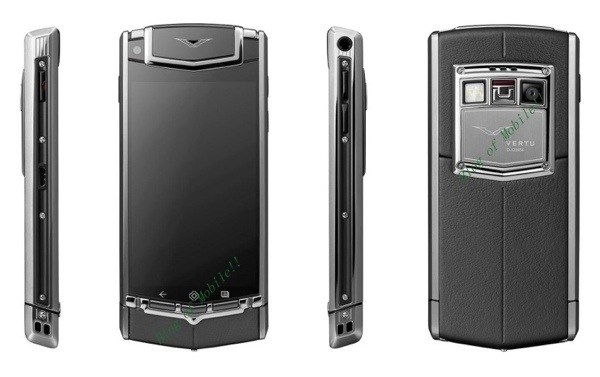 And according to the latest leak, the first Android smartphone from the company might be the Constellation Ti, pictures of which have allegedly leaked and are as above. The device carries a model number of RM-828V which as per the source is used by Nokia and thus indicates that the hardware was built by Nokia and this is Nokia's first Android smartphone, unofficially though.
Rumours suggest that the Vertu Ti will be powered by a 1.5 GHz Snapdragon processor, have a 800 x 480 pixel screen, run on Android 4.0.4 Ice Cream Sandwich OS and will get all the juice from a 1250 mAh battery. The uber-expensive smartphone will have connectivity options like NFC, Wi-Fi 802.11 a/b/g/n and Bluetooth 4.0.
 
The device is expected to be launched in four versions, Titanium Black PVD black leather, Titanium Black Alligator, Red Gold Mixed Metal and Titanium Black Leather. Each version would differ from the other in terms of finish and look rather than specs. The company is known to design phones with
studded gems and other precious metals, which make the phones very expensive.
 
Ah, and coming to the price tag, the Vertu Ti might just be the cheapest Vertu Android smartphone and could cost (just) $4000. 

Amol Mathur contributed to this report!