Windows Phone users can now get immersed into the world of Indian Idol Junior with the help of their smartphone with the newly launched show app.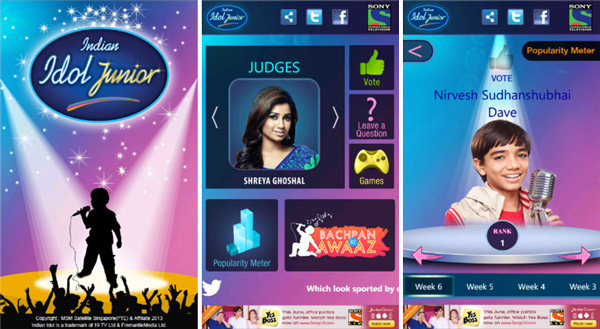 Multi Screen Media (MSM) Pvt Ltd launched the Indian Idol Junior app on Windows Phone, which keeps the user tied up with the Indian Idol Junior show on the move. The free app comes bundled with exciting new features and games. The users can know about their favourite judges, ask questions and get answers directly from all judges, hosts and contestants through the application.
Similarly the Indian Idol Junior app on Windows Phone can be used to rate how popular their favourite 'junior' is and what others think of him or her using the 'Popularity Meter'. Users can create their own Indian Idol Avataar, which is a customized virtual identity to revive the Indian Idol experience
Speaking about the app, Nitesh Kripalani, Senior Vice-President – New Media, Business Development and Digital/Syndication at Sony Entertainment Network commented, "The idea behind launching the app on Windows Phone was to reach out to and engage with our fast growing fan base. Indian Idol Junior is undoubtedly is one of the most popular music reality show from Sony Entertainment's stable and is loved by all and sundry. Mobile penetration in India is burgeoning and our endeavour is to bring our popular shows right to the finger-tips of our audience so that they don't miss out on the fun, even while they are on the move".
The Indian Idol Junior app on Windows Phone can be downloaded from the Windows Phone Store.