Without the shadow of a doubt, the Micromax Canvas 4 A210 release was an eagerly awaited one. The Canvas series has been a winning story all over India. This phone, though has taken a shot at a higher price range with a Rs. 17,990 price tag, which is one aspect that is different from previous Canvas phones.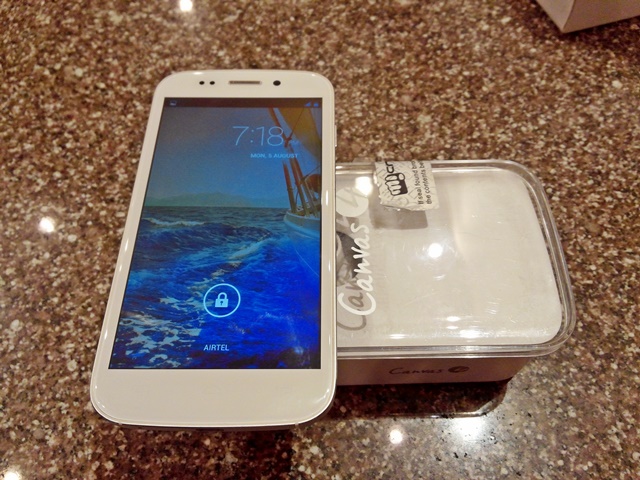 So, cutting to the chase, is this phone really worth its weight or is it just riding on all the hype?
Well, lets look into it.
Display: The 5-inch display is actually the same as the Canvas HD smartphone – It has the same 720 x 1280p resolution and is 294ppi, well, it works well, but better screens are available in the same range.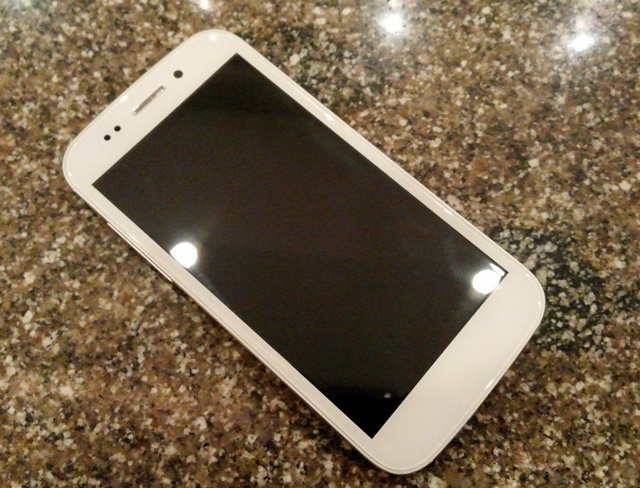 Design: The Micromax Canvas 4  A 210 totally nails it when it comes to design. If you have underrated Micromax up till now, just holding out the Canvas 4 will let you know that the phone is as suave as a Samsung Galaxy S4 or an iPhone 5.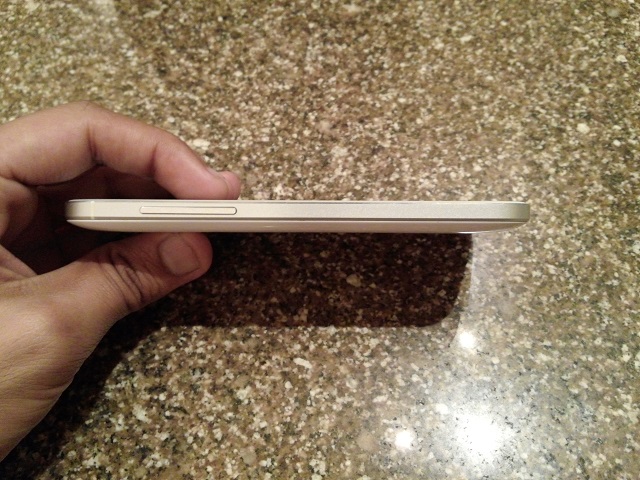 We aren't kidding – The edges are chiseled out, the body is great to hold and the screen easy to operate. Micromax has  done a pretty good job designing this handset. A special word about the metallic frame that holds it together – it just lends sophistication to the device.


You can actually put the phone in a cover and keep people guessing which phone you are using just like its ad says – That is also because there is no Micromax branding on the front, which is a clever gimmick designed for people who want to pretend that they are using high-end phones. (Trust us, there are more people like that out there than you can imagine). Another thing that Micromax offers is a Rs. 3,000 worth flip cover with the handset. Sadly, we didn't receive one with the review handset, but we still have doubts that it would be worth that much.
The phone is easy to hold with its 144.5 x 73.8 x 8.9mm dimensions and pretty lightweight at 158g – something great for a 5-inch phone.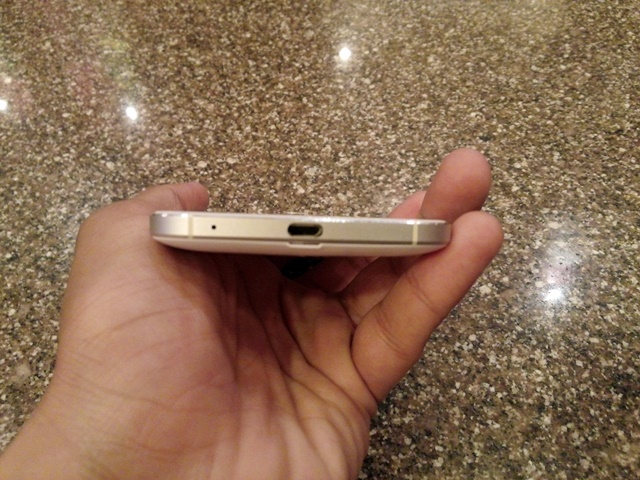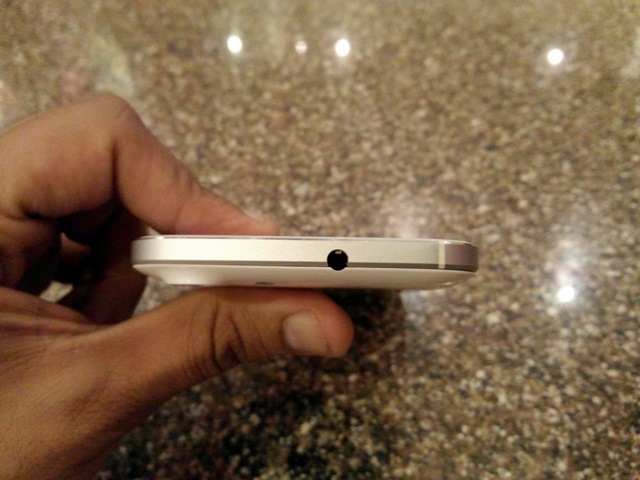 There is a power button on the left, a volume rocker on the right, a USB slot at the bottom and 3.5mm jack at the top. There are three touch buttons located at the bottom – home, menu and back. An inbuilt speaker looks great at the top. The phone is smooth as silk and all its buttons are easy to operate. Touching the white frame around the screen feels like bliss. The camera at the back looks pretty cool actually.
Over all, it has totally wooed us in the design section.
Hardware: The phone is empowered with a 1.2 GHz quad-core processor and considering its other specs, it should work out fine, right? Well, mostly it does. To be precise, it is not flawless. To say the least, the phone heats up if you play a regular game such as Fruit Ninja for too long. It does not heat up too much but you can still feel it. That is where its 1 GB RAM plays a part. Well, generally it is enough, but in an endeavor to make the phone special, Micromax has endowed it with too many customizations, which does mess up the equation a little.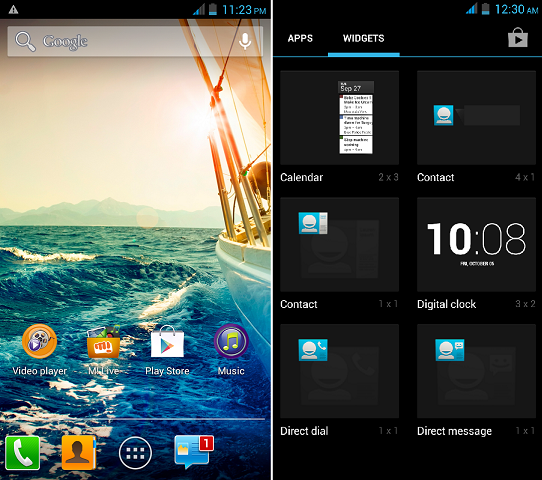 The phone is dual-SIM and two SIM slots are located at the back. You can easily take out its 2000 mAh battery and put it back in.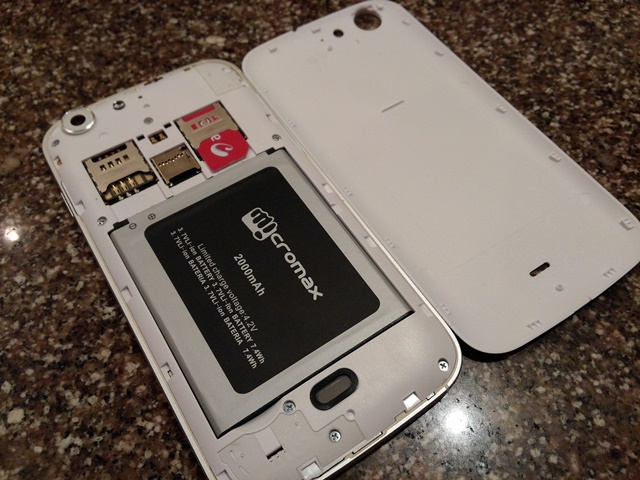 The phone is also endowed with 16 GB internal memory which is  pretty great and saves investment in high-grade memory cards. Downloading is pretty easy and suave.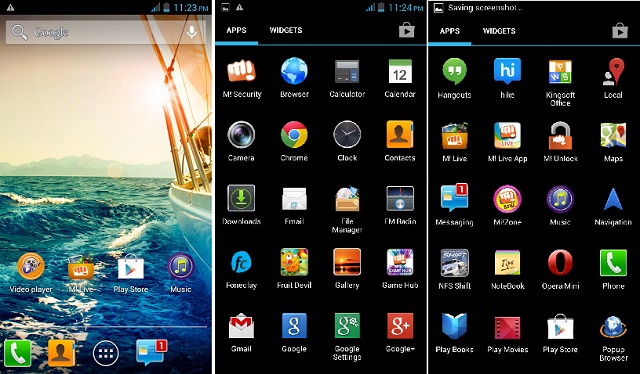 User Interface: When it comes to the cosmetic features of  the phone Micromax has done well and the UI of the phone is no exception. The UI is pretty good, it works in a fluid manner. Micromax has tried on lines of Samsung, put in company earmarked apps such as the M! Security app, the M! Live app, M! Live and the M! Zone app.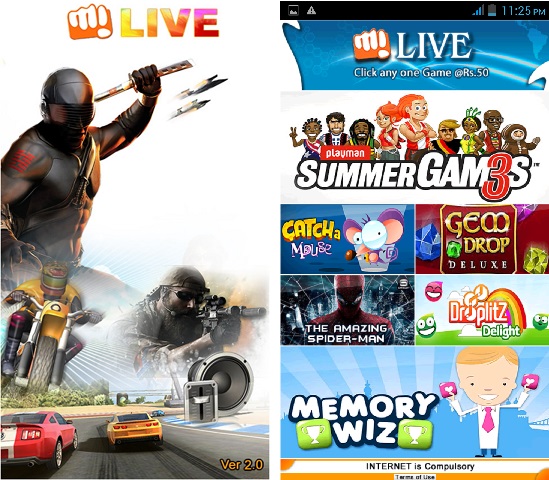 There is also the M! unlock feature which is the Blow/shake to unlock feature on the phone and deserves a special mention. Many people complaint that it didn't work well and it took them days to figure out how it did. Well, actually it is pretty easy to unlock the phone.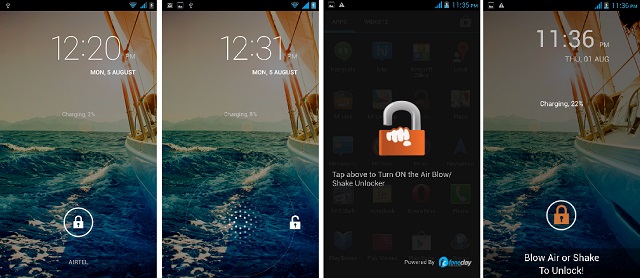 Firstly, you can just disable this feature  and use the normal unlock feature by clicking on the M! Unlock app. Secondly, if you want to blow, you can't just blow on the lock on the screen. If you want to blow hard, that's cool and if you want to blow slow, blow continuously for 2-3 seconds. Thirdly, you can shake the phone a little and the lock will open. Or you can just press the lock for 2 seconds and it will unlock.
The touch sensitivity is okay, since it could have been a little better. You wouldn't realize the difference unless you are playing high intensity games.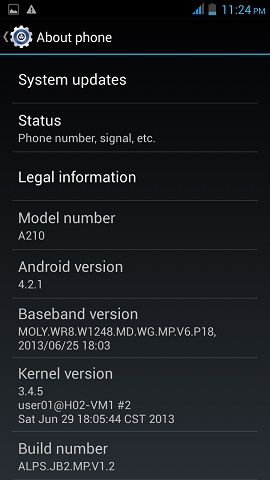 It runs on Android 4.2.1 (not 4.2.2, sadly). It runs fine, but if you had your hands ever on Android 4.2.2, you would know the difference. The likelihood of it receiving an update is low.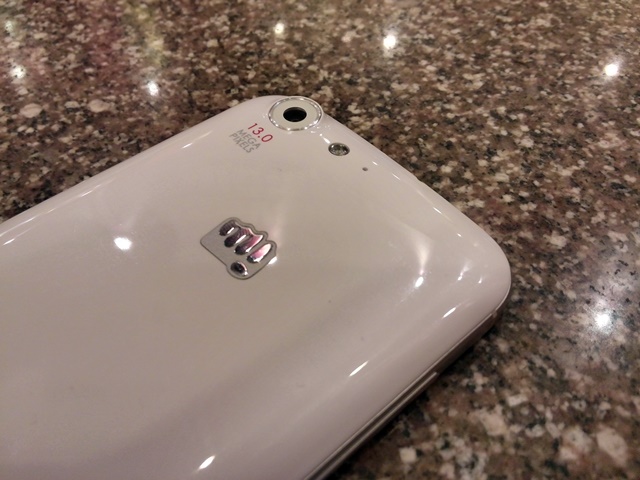 Camera: The 13-megapixel camera at the back is touted to be one of the best features of this handset. It works okay but nothing exceptional there.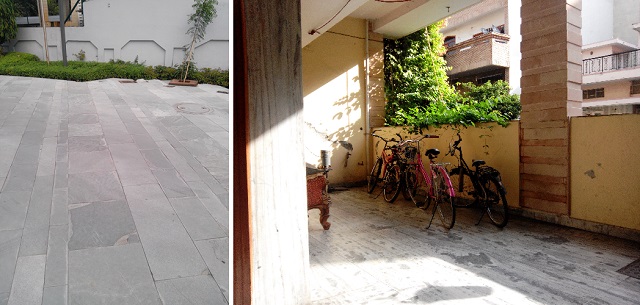 Actually, it works well, if you have enough lighting but if you are taking low-light shots, they just don't come up to par.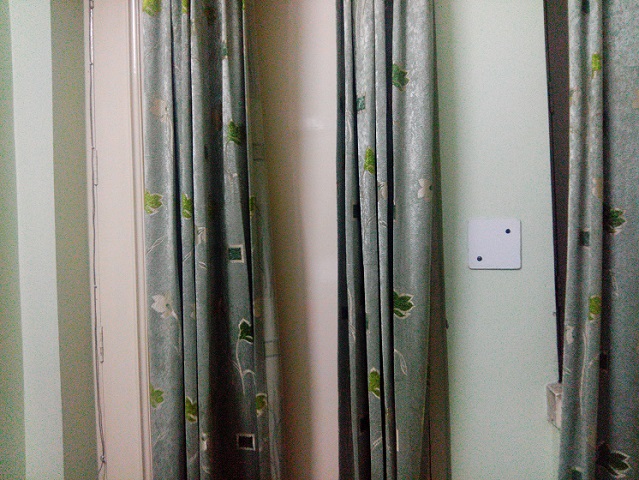 For a 13-megapixel camera, there isn't a great photo app with and you have to depend on third party apps if you want to really add charm to your photos. Besides this, it has some saucy additions such as the ability to take vertical panorama shots and 99 pics in 15-seconds in shutter mode.
Performance: Performance is one thing a high-range phone like this one cannot lack. But, it is kind of both a good and a bad deal when it comes to performance. There are features like excellent video playback which we absolutely loved along with its 'turn away to pause' feature, which showed superb gesture control.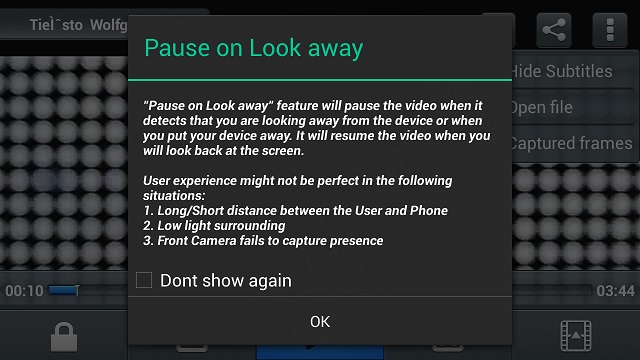 Micromax has just overloaded on apps some of which well, are actually not needed – M! Live for example asks you to send an SMS for Rs. 3 and buy a game for Rs. 50 when you have loads of good alternatives available from the Play Store. These apps are the curse of the phone and since they are built-in you can disable them but not delete them, they make the phone heat up and they also cause a slight lag and just make the 1 GB RAM and the quad-core processor under perform.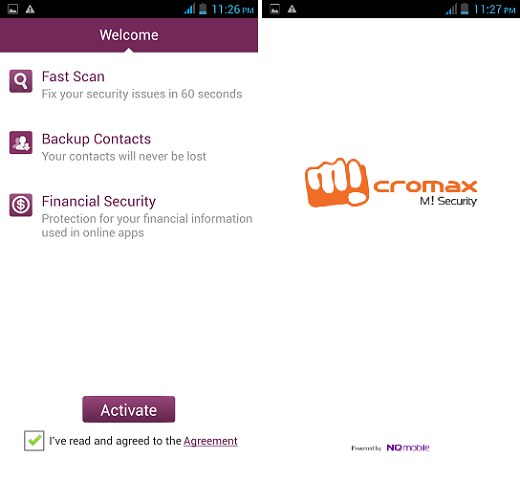 Connectivity: The connectivity is pretty okay, it has good network connectivity, but the Wi-Fi connectivity could be improved. There are no fireworks here to talk about.
One thing that Micromax has strived to change with the Canvas 4 is its after-sales service that many consumers have been complaining about. In fact, Micromax, offers a replacement, if any issue with your  Canvas 4 is not sorted out within 7 days.
Accessories: Not much to add here, there are in-ear headphones, a USB charger and a pretty weird looking USB cord in a box that looks similar to the iPhone packaging.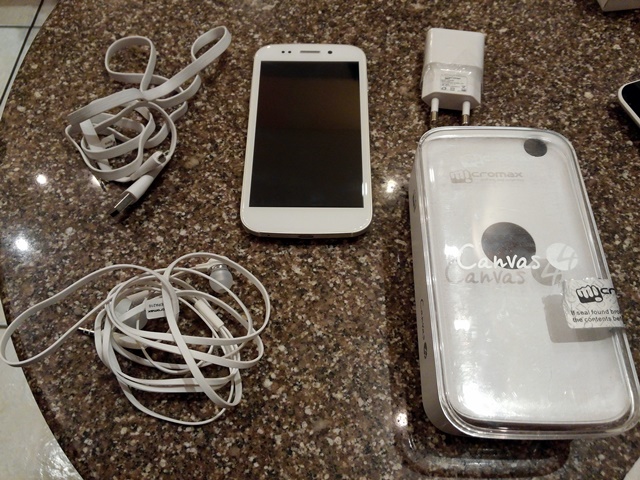 Pros:
Great Form Factor
Good screen
Great to hold and look at
Decent graphics
Smooth buttons
Good internal storage
Cons:
Performance lag
Older Android version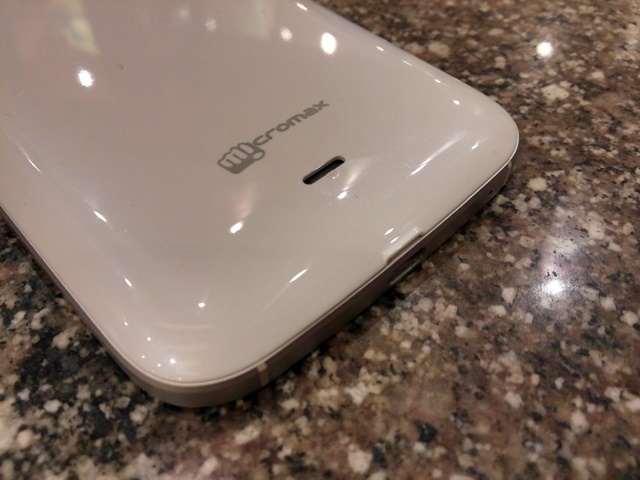 Conclusion: The gamble that Micromax has taken with this handset does not pay off in our opinion. It's biggest threat is its own predecessor – the Canvas HD. There is a Rs. 5000 difference between the two and the only differences between the two are the form factor, the camera which has been upgraded to a 13-megapixel one and still performs only okay, a 5-megapixel front cam instead of the old 2-megapixel one.
The only question is, would you mind paying Rs. 4000-5000 for just those features?