There was a time when the only names familiar to most of the buyers in India were Samsung, Nokia, LG, Sony Ericsson and Motorola. While Nokia was literally a legend, others were also not far behind. However, with the entry of other smartphone manufacturers, both Chinese and Indian, people now have more options to choose from.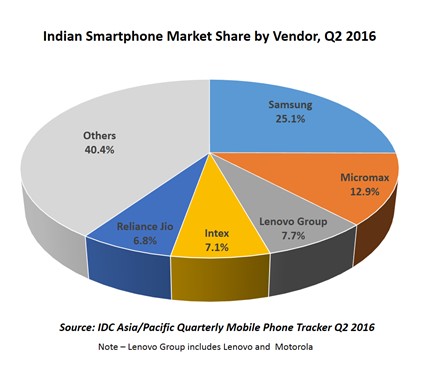 Even if there are so many manufacturers selling their smartphones in India, the Indian smartphone market didn't see much growth. However, according to the latest report by IDC, the Indian smartphone market has seen a growth of 17.1% in Q2 of this year with Samsung leading the market share.
Samsung stood first in the market share at 25.1% which was followed by Micromax with 12.9%, Lenovo Group (includes Lenovo and Motorola) with 7.7%, Intex with 7.1% and Reliance Jio with 6.8%. Obviously the rest of 40.4% consists of other smartphone manufacturers which sell their smartphones in India.
The reason for Samsung's increase in share is the release of Galaxy J2 (2016), J5 (2016) and J7 (2016) in Q2 2016 which drived Samsung's shipments in India. Talking about Micromax, the launch of Canvas 6 Series and YU Yunicorn in the $150-$200 segment helped the company get second spot in the market share in Q2 2016.
As for Lenovo Group, the Moto G4 Plus and Vibe K5 Plus did the trick with the company extending its presence in the retail contributing to approximately one-third of its shipments. Talking about Intex, its Cloud series helped gain a share in the Indian market in online segment at a time when it's facing competition from Indian as well as Chinese vendors in the entry-level and mid-level segment respectively.
Coming to Reliance Jio, we think it's self-explanatory. Reliance entered the sub $50 segment with its LYF series smartphones which come bundled with Jio Preview Offers. This is reason enough for Reliance Jio to get a spot in the top 5 vendors.
"Sub $150 segment has been a strong foothold for Indian vendors, which is now facing increased pressure from both global and China based vendors. Aggressive entry of Reliance Jio with shipments of over a half a million 4G devices has captured significant share in sub $50 segment at the expense of other Indian vendor's share. The premium segment (US$300+) saw vendor share movement rather than expansion as China based vendors made a significant expansion in this segment capturing around one-third of this segment in Q2 2016 from just 9% a year ago." said Mr. Jaipal Singh, Market Analyst, Client Devices, IDC India.
"China based vendors' shipments grew 28 percent over previous quarter of which Lenovo group, Vivo, Xiaomi, OPPO and Gionee were key contributors driving the growth. Until now, Lenovo was the only China based vendor to ship over a million units in a quarter, while this quarter saw additional three vendors joining the million shipments bandwagon. Xiaomi's Redmi Note 3 was not only the top selling model in online channel but also a star product for the vendor contributing majority of Xiaomi's total shipments in Q2 2016." said Mr. Karthik J, Senior Market Analyst, Client Devices, IDC India.
As we always keep saying, competition in the market is always beneficial to the consumers. With manufacturers wanting to gain more market share in India, we expect more smartphones coming in the market with better price-to-performance ratio.