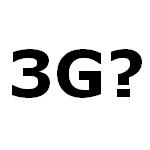 Indian telecom companies were excited with the announcement of 3G auctions for high-speed mobile service. But now with the delay in auction for four times in a row, mobile operators are uncertain about the start of 3G services in the world's largest wireless market by users after China.
The Indian government still expects to accumulate a total of USD 5.5 billion for four national and 22 regional licences, despite a weak growth in profit and falling stock prices due to a price war that has driven calling rates to well under 1 cent per minute. Carriers will need cash to bid on spectrum, and building a nationwide network will cost each as much as $4 billion. So far, the start of 3G has not been fruitful. State-owned operator BSNL, which the government allowed to launch 3G a year ago, currently offers service in 300 cities, has cut tariffs at least twice, and has just 700,000 customers. The company's record doesn't seem to encourage competitors.
The auctions may lead to consolidation and greater overseas control of India's mobile business. The top three operators hold just over half the market, while a number of smaller players pmgtle for the rest and foreigners are keen to enter this market. Japan's DoCoMo offered $2.7 billion for 26% of telecommunication operator Tata Teleservices, and Russia's MTS purchased 74% of Shyam TeleServices in 2008. Norway's Telenor looked to buy another small player in 2009.
Most Indians look satisfied to use phones for just voice calls and SMS. Only 40,000 or so iPhone's are being used in the country, and smartphones make up well under 5% of the handset market. Mumbaikars using handsets with built-in FM radio seem very contended for listening to music on the go and wonder how would internet enhance their mobile features. With few Indians using mobile Internet, carriers are suspicious over spending billions on network gear and licences.
Do you think that the launch of 3G services will give a major push to the telecommunication industry? Do post your comment if you are already using phones with access to 3G.