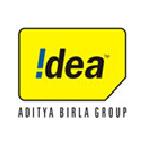 Idea Cellular has been recognized as the 'Most Customer Responsive Company' in the Telecom sector, at the prestigious Avaya GlobalConnect Customer Responsiveness Awards 2010. Idea's commitment to offer superior customer service and its constant endeavour to enhance customer satisfaction received due recognition by the illustrious jury comprising of senior members from Ernst & Young, Nielsen and Avaya GlobalConnect.
The Avaya Global Customer Responsiveness Award was conferred upon IDEA Cellular in recognition of its various new and innovative customer service and delivery initiatives in the telephony services space. Idea was chosen as the winner of the prestigious award after an extensive quality audit of the organisation's systems and processes, leaving behind many other strong contenders in the telecom category.
IDEA Cellular was amongst the 11 distinguished winners, who were selected from a list of 124 nominees, in various categories for the Avaya GlobalConnect Customer Responsiveness Awards, this year.
Speaking on the occasion, Mr. Navanit Narayan , Chief Service Delivery Officer, IDEA Cellular Ltd said, "This award is a recognition of our commitment to institutionalizing the highest standards of Customer Relationship Management processes. It has been our constant endeavor to align all processes and practices to facilitate customer delight.