Samsung Introduces Guru 1175 Phone with enhanced FM capabilities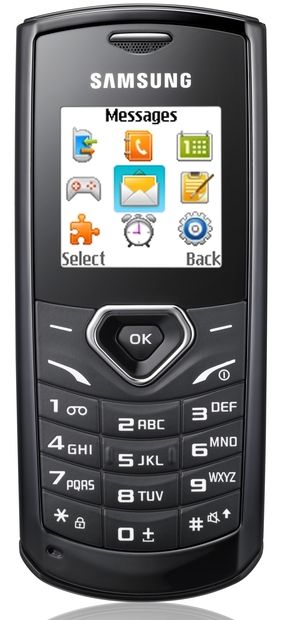 Samsung Electronics today announced the launch of its entry level Guru 1175 handset which combines style and functionality and is customized meet the needs of Indian consumers
priced at Rs.1690.
The stylish Guru 1175 with a curvy design and patterned battery cover has a ergonomic grip due to its streamlined body. The ergonomic design of the phone and its rounded edges fit comfortably in the palm during calls and during text messaging.
It has enhanced FM music features and offers users FM radio with upto 23 hours playtime, 40 poly and MP3 ringtones featuring bollywood hits and an extended battery life of 1000mAH allowing 12 hours of talk time and 650 hours of standby time. In addition, the FM phone is equipped with advanced mobile tracker, Fake call and SOS messages.
The handset also offers convenient features like a bright torch which can work upto 38 hours and can be operated on a bike mode as well. The bike mode is a useful feature for two-wheeler owners that allows users to receive calls only those calls that are important. In the profile settings, one can set important contacts list whose calls only can be received .Anyone else calling, will get the user busy response. Further, an automatic call answer can be set for added convenience, as calls can be instantly connected via the handset without any need for a manual press of a button. Further, the ring tone volumes are the loudest possible to hear in the traffic noise.
The Guru 1175 has a an enhanced memory of 1 MB with phonebook memory of 1000 entries and an SMS memory of 500 entries allowing users the ease to store their contacts. A 9 regional language input & display makes it easier for users to use the phone in the language of their choice. The phone is also equipped with a Indian calendar and games like – Carrom, Suduku, Super Jewel Quest and Cricket.