It seems that luck is in full favour of Instagram and there is no looking back for the app. The app was already famous over the iOS platform but it never managed to gain the No.1 spot in the Top-Apps list. But all that is History.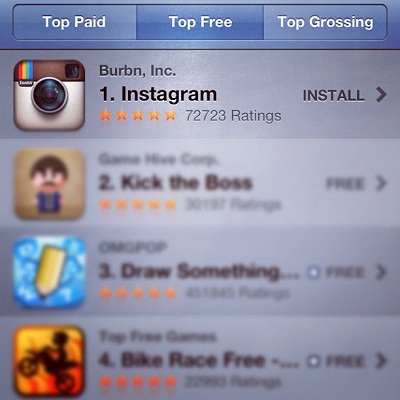 Thanks to the app arriving to the Android Platform, then Facebook buying Instagram for a huge $1 billion figure and all the word-of-mouth publicity has made the app reach the top spot in the Apple App Store, for the first time.

It is obvious that if any app that reaches 5 million downloads mark in just 6 days and Facebook trusting the makers and betting $1 billion on it, it will surely go on to get the app some attention from users who have never tried it over the iOS platform.

And now all the buzz made over the internet has surely made a few more (or let's say another million) users to download and try it. This has on other hand made the app reach the top spot in the Apple App Store. It is indeed interesting to see how a simple Photo-editing and sharing app has gone through in just a week. The Android version of Instagram crossed a million downloads in just 24 hours and crossed the 5 million downloads in just 5 days, whereas the iOS version took 6 months to reach that mark.

Indeed a very interesting phase the makers of the app are going through. Let us wait and see what next destiny has in store for them and what new features they have to impress us more.