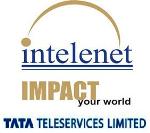 Intelenet Global Services Private Limited (Intelenet), today announced that it has signed a five-year outsourcing partnership with Tata Teleservices Limited. This partnership elevates Intelenet's position and makes the Company the first player to offer Finance & Accounting processes in the telecom vertical.
Intelenet will provide a spectrum of services, covering back-office processes and customer support functions, within the F&A BPO domain. Intelenet will provide account payable services pan-India for all the 22 circles of Tata Teleservices from its existing delivery centers. With a successful track record of partnering with leading global and local telecom players, Intelenet has a strong foothold and an established play in the telecom vertical.
"We are delighted to partner with a dynamic brand leader like Tata Teleservices and be the first player to innovate with F&A offerings in the telecom space," Mr Susir Kumar, Managing Director and Chief Executive Officer of Intelenet Global Services, said. "Having successfully built our expertise herein, we offer seamless delivery of end-to-end F&A services, coupled with a strong delivery footprint.  In keeping with our strengths, we are confident of providing tangible value, reduced risks and complete customer satisfaction," he added.
Speaking on the partnership with Intelenet, Mr N Srinath , Managing Director, Tata Teleservices Limited, said, "As we expand our telecom offerings, we need the expertise to manage some of our back end operations.The domain expertise and depth of Intelenet's offerings will help Tata Teleservices focus on its core business offerings and imperatives."