Intex launches 4 new mobiles – IN 4495, IN 4410, IN 80 and IN 20
INTEX has launched 4 new mobile phones. Two of them are Dual SIM (GSM+GSM) – IN 4495 and IN 4410 and the other two are CDMA – IN 80 and IN 20.

INTEX IN 4495 comes with 6.1 cm QVGA touch screen. Its one-of-its-kind Peer Control feature ably takes care of your worries if you keep forgetting your phone at home while leaving for work. The function needs a simple code with which a user could easily switch off the phone and could also operate many other functions while sitting at a distant location. Presence of Motion Sensor further adds a dash of simplicity and swiftness to the operations.  It features 3.5 mm stereo jack for headphone/speaker connectivity, talk time of 7 hrs , stand-by of 10 days, mobile tracker, extendable memory up to 8 GB, Camera, FM radio, Audio & Video player, Bluetooth, USB – PC Connectivity, and auto voice reply.It comes with a price tag of Rs. 4200 and availabe in color combos – white & green and black & plum.

INTEX IN 4410 – Dual SIM (G+G) model has a 'plain-vanilla' charm. It features  2.0 inch TFT display, VGA camera, wireless FM radio without external antenna, video & audio player , inbuilt memory of 63MB, Bluetooth and torch light. It is priced at Rs. 3400.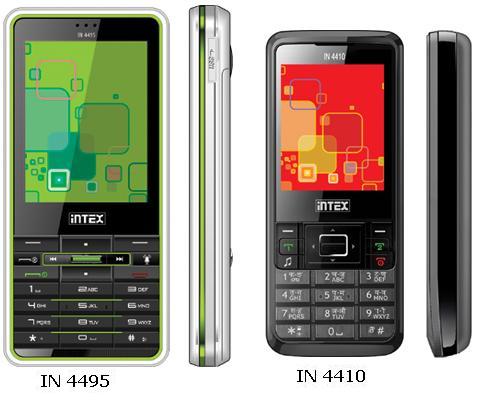 INTEX IN 80 is a cult in CDMA genre. It features 6.1 cm  display with QVGA resolution, up to 153.6 Kbps data download rate, expandable memory up to  2 GB, FM radio, Camera, USB PC connectivity, Motion Sensor, Bluetooth, 3.8 mm stereo jack, audio & video player, talk time of 7 hours and standby of 260 hours . It is priced at Rs. 5000
INTEX IN 20 is a musical treat for CDMA users. It comes with  FM radio, 1.5" CSTN display, a three-hours talk time, 150 hours stand by, one-way call record  mobile tracker, phonebook with 500 contacts phonebook memory, sound recorder, etc. Its a basic CDMA phone, it comes at a price tag of Rs. 1600.