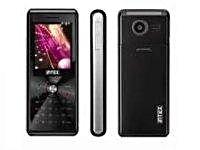 Indian-based company Intex Technologies launches feature-rich Mobile handsets in a reasonable price range. Intex takes its wraps off the two fully-featured mobile phones, namely the IN 5000 and the IN 5040, for Indian consumers.First in the list is a complete entertainment gadget, the Intex IN 5000 that boasts a touchscreen interface. This GSM-capable phone sports a 2.0-inch TFT touchscreen display, FM radio, mobile tracker, a camera, GPRS, Bluetooth and an audio & video player. Offering a 1000 contacts phonebook memory, the handset also supports up to 2 GB of expandable memory. What makes the IN 5000 special from rest of the Intex phones is an elegant leather flap, which is darned with the phone. This eliminates the need of any plastic or leather case.Talking about the next feature-rich mobile phone, the Intex IN 5040 flaunts its dual SIM support for users to insert GSM and CDMA SIM cards. Besides, it comes equipped with a camera, Bluetooth with A2DP (for enjoying music through Bluetooth), FM radio, USB PC connectivity and an audio and video player. Like the IN 5000, this phone also provides a 1000 contacts phonebook memory with support for an expandable memory.
Speaking about the two new mobile phones, Shailendra Jha, DGM, Intex Technologies, said, "In keeping with Intex's policy of offering latest technology products at competitive prices, we are glad to announce the launch of IN 5000 and IN 5040 handsets. We are confident that these models, with their richness and diversity of features, will appeal to most cost-conscious and tech savvy consumers. Consumers can look forward to more dual SIM models in the G + G genre in the first quarter of this fiscal year."
The Intex IN 5000 GSM touchscreen phone carries a price tag of Rs. 5,000, whereas the IN 5040 dual SIM phone can be purchased for Rs. 5,500.