Smart glasses are going full scale and every company on the face of the earth is trying to make one while the Google Glass was the one that started the trend, its price tag hasn't been appeasing to anyone. Besides, a full scale release for the same is not due any time soon. But, it seems that affordable alternatives have just started doing rounds in the market. One of these is the sub-$100 ION smart glass. Rather  than mounting a small screen atop the Glasses, ION has mounted a small LED indicator for phone notifications and controlling your devices.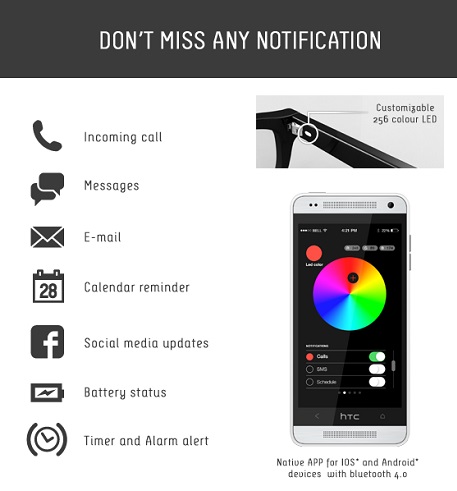 ION is, rather than a smart device transformed into glasses is more of glasses equipped with smart capabilities. It is not a weird looking gadget, but a stylish pair of glasses equipped with an LED indicator, along with 2 keys to wirelessly  control your devices. ION is built into a regular wayfarer frame allows you to customize it from your phone.
ION has an $150,000 funding goal it needs to achieve within the next 47 days to become a reality. You can back the project and receive one for just $79 on IndieGoGo.