iOS 5.1.1 hits Apple devices, includes bug fixes and more
Apple has started rolling out iOS 5.1.1 which is said to bring in a lot of bug fixes. Basically there aren't any additions of any feature, but the update just polishes the iOS 5.1.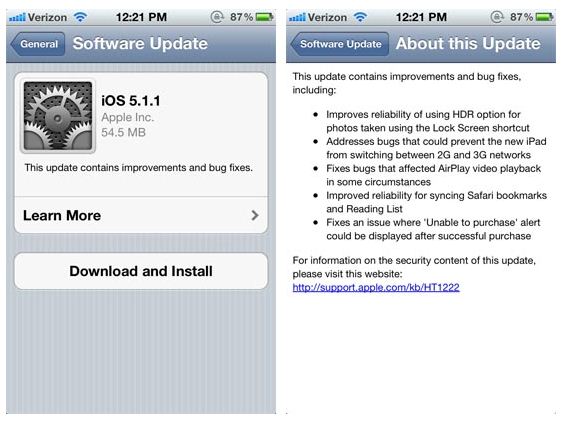 The new update is available for the iPhone 3GS, iPhone 4, iPhone 4S, iPad, iPad 2, new iPad and both the third and fourth-gen iPod touch.


Here's the full changelog:

Improves reliability of using HDR option for photos taken using the Lock Screen shortcut

Addresses bugs that could prevent the new iPad from switching between 2G and 3G networks

Fixes bugs that affected AirPlay video playback in some circumstances

Improved reliability for syncing Safari bookmarks and Reading List

Fixes and issue where 'Unable to purchase' alert could be displayed after successful purchase
The update fixes and improves the streaming of videos over AirPlay. Also issues with syncing both Safari bookmarks and the browser's Reading List should also be resolved. There are improvements in the HDR mode of the camera when you open it from the lockscreen. Owners of the new iPad will now be able to easily switch between 3G and 2G as the bug has been fixed with the new update.