There aren't a lot of appealing apps to access Twitter for feature phones or older devices which are not very big on hardware and speed or staying with an old OS. So users of these devices have to depend on the Twitter Mobile (mobile.twitter.com) website to access their much loved Twitter account.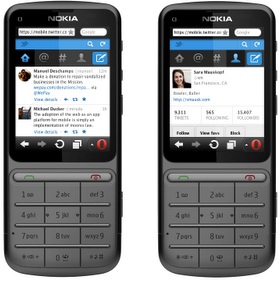 But then the site was not that good and in a very bad state, until yesterday. Starting today Twitter has revamped the Twitter Mobile site and has given it a revamped look which is much similar to the native Twitter app for the iPhone and for Android.

This change is surely a blessing for all the low-end mobile phone users as they will now have a nice feel and easy access to their twitter account. If you use mobile.twitter.com then with this updated version, you can see all the Tweets from the accounts you follow in the Home tab and check your @mentions in the Connect tab. You can see what's trending in the Discover tab, and access your direct messages and Tweets in the Me tab.
 
Now mobile.twitter.com is faster, like a native mobile app and goes on to use at least one-third less bandwidth than the previous iteration which will go on to give people access to Twitter even with the weakest signals and the simplest devices.