With the release of the

iOS

6, Apple went on to drop the Google Maps from the OS and added its very own and highly buggy Apple Maps app.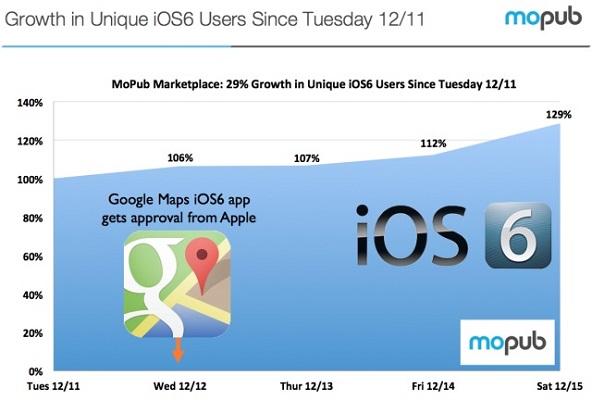 While it was expected that many

iOS

5

users

were holding back from upgrading to the

iOS

6, Ad network MoPub has said that with the launch of the standalone Google Maps app for

iOS

, there is a spike in the adoption of

iOS

6.
As per the data that MoPub checked over 12,000

iOS

applications the company found that the adoption of

iOS

6 jumped 29% within 5 days since the Google Maps app was released in the iTunes Store.
 
Jim Payne, CEO of MoPub said,
 
We observed since the launch of Google Maps for

iOS

6 a 30 percent increase in unique

iOS

6 users, and we think it's related to Google Maps. It verifies the hypothesis that people were actually holding back to upgrade until Google Maps was available.
Also, the Google Maps app took just 7 hours to reach the top of the charts and about 48 hours to see over 10 million downloads which also indicates how many people missed the app. 
So this might have been the case that many
iOS
users
were waiting for Google to launch the Google Maps for
iOS
as they did not want to lose the app and use the now-improving
Apple Maps app
.
Also, not to forget, another great alternative to the Apple Maps app and Google Maps is Nokia's HERE Maps which has been taken well by

iOS

users while Google Maps was absent.