Finally after loads of rumours and a couple of leaks we finally heard it officially from Apple that with iOS 6 it has ditched Google Maps for its own Maps app with some really cool and exciting features.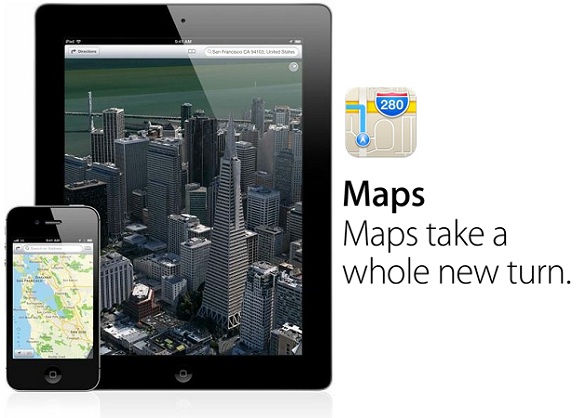 Designed by Apple from the ground up, Maps gives users turn-by-turn spoken directions, interactive 3D views, and the stunning Flyover feature. All of which is surely to make the Maps app one of the most powerful and great looking mapping service out there. 

If you are worried about the distorted views while using the Maps then you don't have to worry as Apple has made the Maps use a vector-based engine that keeps text crisp, graphics clear, and panning and zooming smooth and responsive.
 
Turn-by-Turn Navigation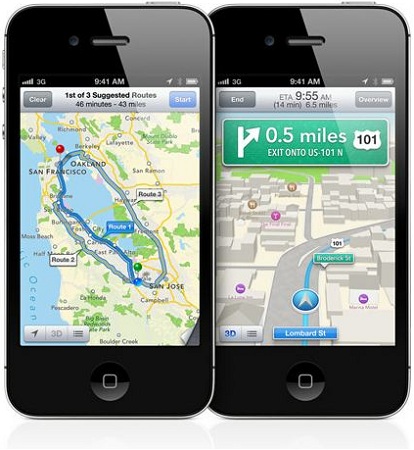 Next up is the Turn-by-Turn spoken navigation using which users can navigate easily around many cities and never miss a route. The Navigation also has a 3D View with the Maps speaking to you with every directions which you are approaching. And users do not have to worry if you miss a turn as Maps would automatically reroute and update the Estimated Time of Arrival at your destination. 
Traffic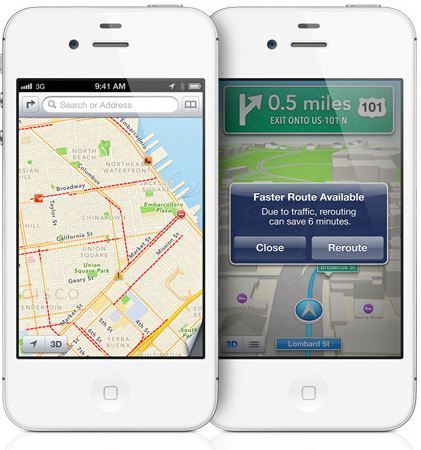 With Maps, iOS 6 users would also get real-time traffic information to calculate your ETA. Maps would now give you details on what's causing a backup, so you can tell if there's a major incident or just a temporary slowdown. And if traffic's a mess, Maps would even offer you alternative routes to save you time. Sweet!
 
Flyover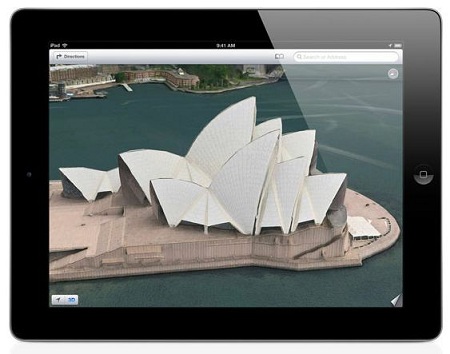 Flyover is the next big thing that Apple is betting all its money on. In the major areas users can view the city from air with Photo-realistic, interactive 3D view. Now even explore your city in high resolution as you zoom, pan, tilt, and rotate around the city and its landmarks. This is surely going to target Google's 'Next Dimension' of 3D Google Earth and from the preview; Apple is bound to beat Google hard! 
 
Siri with Maps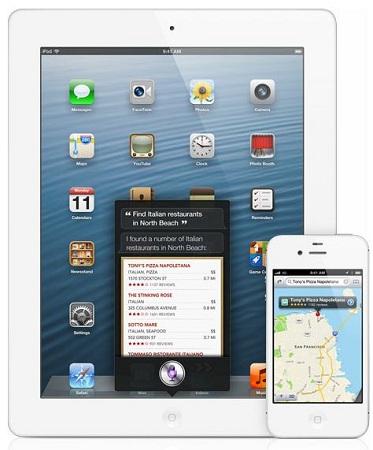 As we all know that Siri has improved to a great extend in iOS 6, it also works well with the Maps. If you are too lazy to launch the Maps app, just ask Siri to do it and also tell her to instruct Maps to guide you through the fastest route. Cool enough?
 
Local Search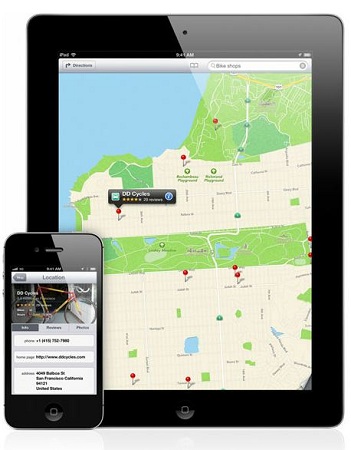 Apple has integrated Local Search into the Maps and now users can get information about any place by placing a pin on the Maps. View photos, tap to dial phone numbers, get an address, find websites, peruse Yelp ratings and reviews and even find deals to save you money. Tap on the Quick Route button and Maps will instantly give you turn-by-turn directions to any search result.
 
So this is the extension preview of the Maps app that Apple is bringing out with the iOS 6 this fall. Impressed? Or wished for more?
 
Also Please Note:
Flyover and turn-by-turn navigation will be available only on iPhone 4S and iPad 2 or later.

Siri will be available only on iPhone 4S and iPad (3rd generation) and requires Internet access.