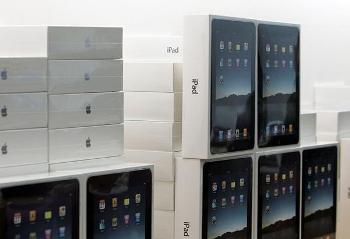 The iPad 2 has been selling out and has been running out of stocks. The Apple Online store is running behind and has delays of up to 3-4 weeks.  Buyers are getting anxious and resellers are getting rich. According to eBay, resellers are selling at an average of 53% above the retail price. Ezra Gottheil, an analyst with Technology Business Research said, "Supply of the iPad 2 is short, and there's a great deal of uncertainty about whether Apple can meet the demand in the short or medium run. Anecdotally, the people standing in lines aren't necessarily buying it for themselves. They went out in order to make a little business."
So what are the prices on eBay ? Well you will be shocked to know that the 16GB Wi-Fi iPad 2 since its launch three weeks ago has been $697 which is $198 more than Apple's retail price, gaining a 40% profit. The 64GB Wi-Fi model is at $963, or 53% above retail, while the 64GB Wi-Fi/3G iPad 2 averaged $1,235, 49% higher than the list price of $829.
Check out the Global demands of the iPad 2.