We are expecting Cupertino based Apple Inc.

to

launch its iPad Mini on October 23rd and as it happens with most Apple products, leaks are flowing in.

With Reuters confirming that the iPad Mini launch event will be held on October 23rd, pictures of the alleged battery which will power the iPad Mini have made its way to the web.

MacRumours were sent in the images which show us a 16.7 Watt-hour battery which can hold a charge of 4490

mAh

. The battery in question is bearing the model number of A1445 and Apple Product Number (APN) of 616-0641
 
MacRumours

 also points out that the battery of the third-generation of iPad or the new iPad is identified as model number A1389 and carries an APN of 616-0593.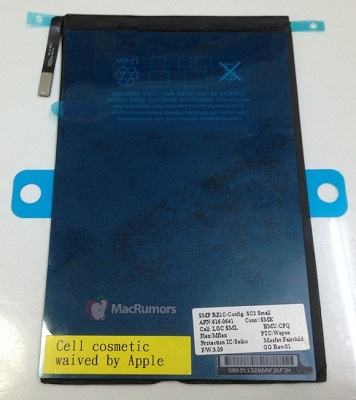 The battery of the newly launched iPhone 5 arrives with a 5.45 watt-hours of power while the new iPad arrives with a 42.5 watt-hours battery and this goes on to place the leaked 16.7 watt-hours battery of the iPad Mini between the two.
 
With this, it is also almost confirmed that the iPad Mini might not be arriving with the Retina Display as a 16.7 watt-hours battery might not be capable of powering the display and also giving a longer usage time to the users. But we hope that Apple surprises us by including the Retina Display on the iPad Mini.
 
Will you buy a 7.85 inch iPad Mini over Google's Nexus 7 if the device turns out to be a real deal?