iPhone 4S India Prices. Why this kolaveri kolaveri kolaveri di?
iPhone 4S landed in India a few days back, surprisingly, the India launch of iPhone 4S happened in a little over one and half months from the date on which it was unveiled in US. It entered India a "Lot earlier" than usual, this made many smartphone buyers and obviously Apple fanboys super excited but the excitement level went down when the prices were announced by Airtel and Aircel.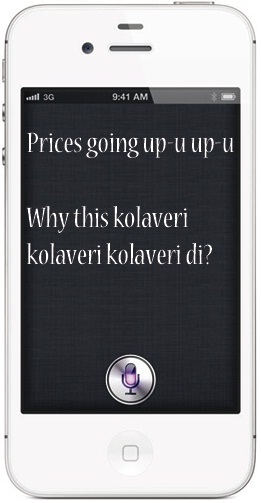 iPhone 4S India prices suggests that it is not for the the category of smartphone buyers who buy a smartphone within the price range of Rs. 25,000 to 35,000.
The 16 GB model of iPhone 4S is available at Rs. 44,500 and the 32 GB and 64 GB model are priced at Rs. 50,900 and Rs. 57,500 respectively. These prices in themselves are capable of keeping away many people from buying an iPhone 4S, who were interested in getting one before the prices were announced.
iPhones have been priced lavishly since the beginning but current prices are a bit too much, specially when you can get the same from US at a much lesser price. Here is table comparing US and India prices of iPhone 4S.

Note: Conversion Rate : $1 = INR 52.34, as per Google Currency converter on 30th November 2011 at 2:14 PM
So, if you really want to buy an iPhone 4S, get it from USA or some other country where it is prudently priced. However, take a note of the warranty issues, as if you buy an iPhone from any other country you won't get any warranty in India.
I asked people to share their views on the pricing, here is what they way to say
Giridhar Chandrasekar (From MobiGyaan Team) – iPhone is a huge success world-wide just for its user experience and pricing. In the Indian context pricing over-weighs any other factor. Do you really expect a regular Indian consumer to shell out 50k for a phone just because of its high user experience? I guess the re-sellers wanted to make a pricing difference between iPhone 4 and 4S and hence the high-pricing.
Mihir Patil (From MobiGyaan Team) – lol iPhone 4s is half the price of Nano.. sgs2 wid btr specs comes for 28k. Highly priced..only apple fanboys can afford it ;)
Kiran Ruth R – the price of the iPhone 4S in india .. i can order an acer ultrabook …… Just too costly …..
Jeet Dholakia – iPhone 4S is for rich people only nt for any middle class,cant even think to buy this costliest siri ,instead I'll go for SGS2
Aditya – costly i phone gives me motivation to work harder and earn more money. Thanks Steve.
Nishant Joshi – Mental. That's my feedback @puneetsays #iPhone4S prices
Animesh Bhatt – the way I see it, iPhone4S is way too expensive.. not worth the cost.. just extra Siri, that cud get boring after a while..
Dhaval Pancholi – the phone s a good piece of technology, but prices are too high in comparison with same in USA unlocked ones, i blame carriers !
Those who are wondering what is this "kolaveri", for them I would like to say guys please spend a little more time online. You can what "Why this Kolaveri?" video here.
Alright, I am done. If you want to add anything to what I mentioned feel free to post your comment. You can follow me on twitter @puneetsays