iPhone 5 to support 21Mbps HSPA+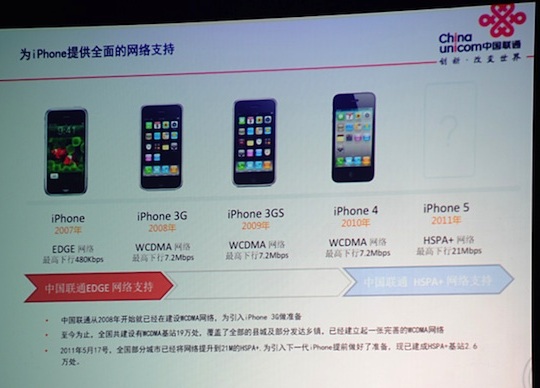 Just 3 days away from the Apple event that is scheduled for October 4, we now have some evidence that iPhone 5 would support 21Mbps HSPA+ speed. Huan Wenliang, Vice president, China Unicom, speaking on the evolution of iPhones starting with EDGE has now reached the HSPA+ generation with the upcoming iPhone 5 during the Macworld Asia 2011 conference. The image shows the progression of iPhone over the years but the iPhone 5 does not carry any image as of now.
T-Mobile and AT&T both offer 21Mbps HSPA+ connectivity in the United States and market the networks as "4G," although a recent letter from T-Mobile's chief marketing officer suggests T-Mobile USA will not carry the device.