The iPhone 5S has finally been launched and as always Apple has a lot of innovations up its sleeve. While Apple has kept up what it generally does with its 'S' version smartphones and stayed away from a complete redesign of the form factor, the internals speak a whole different story and the iPhone 5S is truly a new page in the Apple story.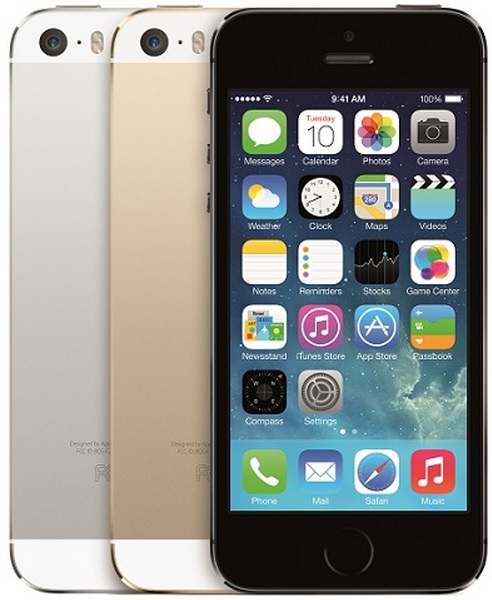 "iPhone 5s is the most forward-thinking smartphone in the world, delivering desktop class architecture in the palm of your hand," claims Philip Schiller, Apple's senior vice president of Worldwide Marketing.
Apple has improved upon the sleekness of the handset though – it now comes in silver, gold and space grey colors with a body shaped out of high-grade aluminum with cut chamfered edges.
Apple has still stuck to a 4-inch retina display, although its microfiber finishing does call for a better smartphone experience.
Apple's processor too has moved a generation ahead to the A7 processor, which it calls the world's first 64 bit processor. A 64-bit processor was being developed by ARM and others, but Apple has beat them all to it. This processor will create a better utilization of the RAM, CPU and GPU than average 32-bit processors. Basically, just think about everything working twice as fast as it does it on the current iPhone and 56 times as the original one!
Besides the A7, there is a secondary processor in tow (wow!), which will pick up motion detection and other activities, unburdening the primary processor, making it even faster. Apple has also kept up its partnership with Nike and Nike has developed a new app for the new iPhone called the Nike Move that will make your iPhone work just as good as a Nike Fuel Band and give you all the health and workout stats you need.
In terms of battery output, Apple claims that the iPhone 5S battery will provide 10 hours each of LTE web browsing and 3G talk time.
Apple has reinvented the camera too although, it is still an 8-megapixel snapper. It calls it the iSight camera. It has actually added a new sensor and a new lens instead of increasing pixels. Apple's exclusively designed lens will boast of an f/2.2 aperture and will have 15 percent larger active sensor area which will definitely help with low light shots. There is also a new flash which will deal create better color temperatures for your images – creating around 1000 different variations. Add to that, the burst mode will provide ten frames per second if you hold the shutter button down and the panorama mode will allow you too create 28-megapixel panoramas.
The camera will capture HD 1080p videos at 120 frames per second and you can adjust parts of the videos to be normal speed or slow motion according to your choice.
One of the highlights of the iPhone 5S is its fingerprint scanner. It will actually make your phone more secure by actually scanning your fingerprint which it calls Touch ID. You actually just need to out your hand on the home button and the stainless steel detection ring around it will automatically detect it obliterating the need of you pressing it. Also built into the home button is the sapphire crystal which acts as a lens and actually takes a photo of your fingerprint and matches it every time for phone security.
The iPhone 5S comes with iOS 7, which amongst many other features scans your fingerprint to ascertain your iTunes store purchase.
As for the pricing it goes $200 for the 16 GB version, $300 for the 32 GB version and $400 for the 64 GB version on a two year carrier contract
iPhone 5S will be available in the US, Australia, Canada, China, France, Germany, Hong Kong, Japan, Puerto Rico, Singapore and the UK on September 20. Notice that this is the first time they are launching the iPhone in US and China simulateously.
A new iPhone 4S 8GB model will also be available for free on carrier plan. iOS 7 will be available as a free software update starting on September 18 for iPhone 4 and later, iPad 2 and later, iPad mini and iPod touch (fifth generation).
No word on an Indian release as of now.
Specs at a glance:
4-inch Retina display; 1136 x 640 resolution
Form factor: 123.8 x 58.6 x 7.6mm; 112 gms
64 bit-A7 Chip and Motion detecting M7 Chip
Touch ID fingerprint scanner
iSight 8-megapixel Camera
Improved camera sensor and  5-element lens
True  tone flash
1080p HD video recording
FaceTime camera with 1.2 -megapixel 720p HD recording
Siri
Nano-SIM Phone, not compatible with MicroSIM cards
Apple iOS 7
Environmentally standardized iPhone