Is this the iPad 3's retina display panel?
Apple is said to be bringing in the iPad 3 next year with a 2048 x 1536 resolution retina display. If it does, it will be the largest resolution on any tablet.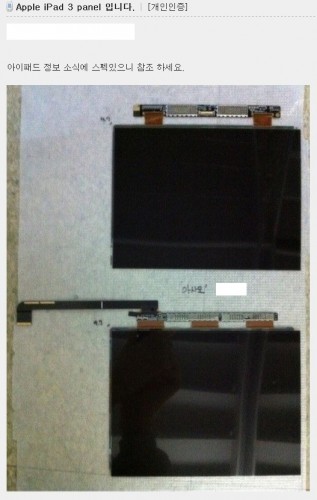 Apparently a picture of the display panel for the iPad 3 has been leaked on a Korean forum.

There isn't any info on the panel, we can't even confirm if it's the real deal. The picture has the iPad 2 display on top and the iPad 3 display below. The iPad 3 display now has three ribbon cable connectors instead of the two in that were used in iPad 2 displays. One cable is power and one is for data transfer. Now the three cables could mean that the one extra cable is probably to carry more data in order to power the high resolution 2048 x 1536 display.
Seems like Apple is really adamant on the high resolution display for the next generation iPad.